DIY Dollar Store Fall Decor – Cheap, Easy Fall Decorating Ideas – Decorate your house for fall from the Dollar Store and will a little craftiness.
The air is getting crisp, kids are going back to school, the seasons are changing! Which means that it's time to ditch the summer decorations for the fall ones! But, I don't know about you, but I am NOT one of those people who are super excited to spend a fortune on season decorations every 2 months. So I opt for the cheap, east fall decorating ideas that you can find so easily on Pinterest and make from the Dollar Store!
I've made a roundup here of some of the cutest DIY fall decor items that I've found so far. Even if you aren't super crafty (like me!), these DIYs don't require a lot of skill in the craftiness department. Most of the items here you can find at the Dollar Store and jazz them up from there.
Thanks to Pinterest and the Dollar Store, you can make your DIY fall decor easy, budget-friendly and beautiful.
Find more fall related posts here:
Check out these other seasonal roundups for Pinterest-perfect DIY Dollar Store decorating:
Popcorn Kernel Filled Candleholder
Source: Passionate Penny Pincher
She didn't think this popcorn kernel-filled candleholder would be simple and inexpensive to make!
A huge thanks to Dollar Tree for allowing her to save money and create this lovely DIY fall decor.
Cheap Fall Decorations — DIY Drip Painting Pumpkins
Pottery Barn Inspired Fall Candle
Dollar Store DIY Pumpkin Topiaries
Source: The Latina Next Door
She started to create some fall decor for the house using a neutral color palette on a tight budget.
These cute little neutral DIY farmhouse pumpkin topiaries were some of the Dollar Store's new fall decor and now they're even cuter.
Fall Lanterns Filled With Gourds and Mini Pumpkins for the Front Porch (or mantle)
Fall is a great time to add some fun and festive decor to your home. One easy way to do this is to make some fall lanterns. You can use gourds and mini pumpkins for the front porch (or mantle) and add your own touches to customize it to your style. These lanterns are cute and easy to make, and they'll help get you in the mood for autumn.
DIY Fall Decor: Modern Swirly Pumpkin
DIY Drilled Pumpkin Light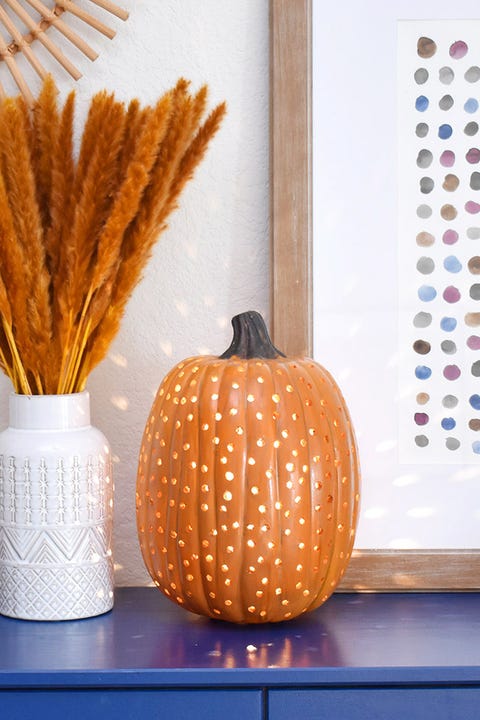 Source: Dream a Little Bigger
This easy DIY drill pumpkin light is perfect for fall decor. Add your own touches to customize it to your style. It makes a great luminary on your front porch or keep it inside.
Inexpensive Fall Decorating Ideas: Glow in the Dark Pumpkin Painting
Cheap Fall Decor: Gold Pumpkin Tablescape
Cinnamon Stick Candle
Source: Make Something Mondays
She enjoys candles and the fall season, so she created this lovely DIY cinnamon candle decor.
The aroma of the burning candle and the cinnamon would spice up the spirit of fall in your home!
Dollar Tree Fall Decorations: Painted Pumpkin
DIY Pumpkin Topiary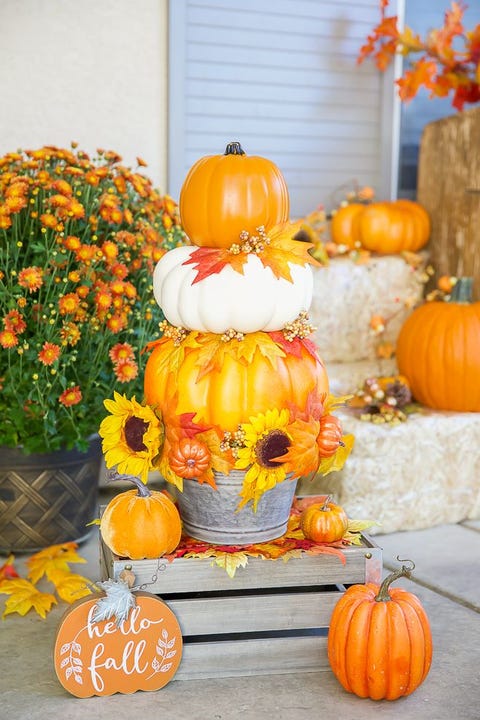 Source: A Pumpkin And A Princess
For even more fall decor ideas, you can customize this by adding sunflowers, leaves, acorns, twine, burlap ribbons, and anything else you want!
Spray Paint Candy Corn Fall Candle Decor
This easy to make DIY fall decor project can be customized to your style. Spray paint it different colors (try some neutrals and gold maybe?), add a ribbon of any color you like, add a burlap ribbon, and add your own touches. Make it fun 🙂
DIY Fall Decor: Super Easy DIY Yarn Pumpkins
Glittery Fall Leaves Garland
This easy-to-make fall garland is perfect for adding a touch of autumnal glamour to your décor. Simply cut strips of ribbon in different colors and widths, then spray with glitter spray paint. Attach the ribbons to a length of twine or string, and hang. You can even customize it to your own style by adding your own touches!
Cheap Fall Decorations: Make Pumpkins from Old Socks
Spray Painted Pumpkin Centerpieces

Source: Hip 2 Save
This beautiful DIY pumpkin centerpiece will make your wallet happy while also enhancing your autumn table!
Can you believe that she only spent less than a dollar to create this cheap fall decor? Awesome!
Wheat Wall Hanging Decoration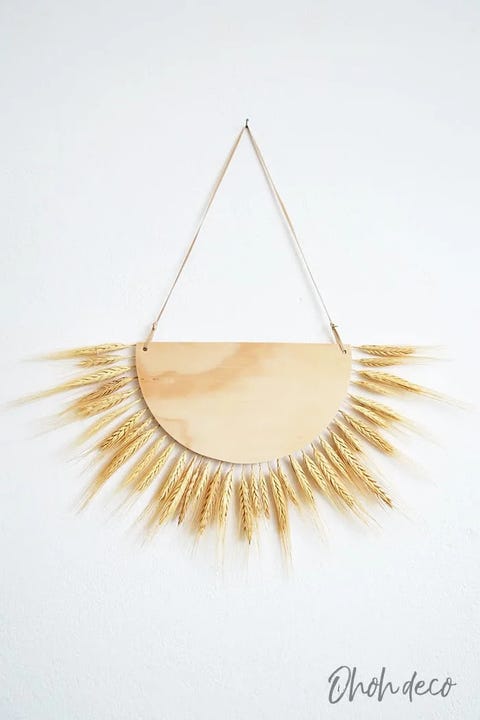 Source: Ohoh Deco
If you're looking for a simple and easy way to add some fall flair to your home, consider making a wall hanging decoration. This project is customizable, so you can add your own touches to make it reflect your style. All you need is a piece of fabric, scissors, and some ribbon or string.
Cheap DIY Fall Decorations: Dollar Tree Pumpkins Front Porch Decor
Fall hanging jars (can be filled with acorns, popcorn kernels, candy corn, cinnamon for scent)
Source: Live Laugh Rowe
This autumn, make some of these hanging mason jars for a fun and simple project!
It's incredible how she created such amazing and versatile fall decorations on a limited budget.
DIY Book Page Pumpkin
(You could also make this into an apple!)
DIY Project: Apple and Burlap Ribbon Wreath
This easy to make DIY fall decor can be customized with your own touches. Add an apple or two to the wreath for a pop of color and texture. You could also use different ribbon colors to match your decor.
Tea Candle Gourds
Source: Garden Therapy
If you want to create a rustic and functional piece of furniture, this is the project for you! These cute little accessories will give your table a little outdoor touch.
She used bright gourds for this tea candle gourds, which are more long-lasting than regular squash and pumpkins.
Inexpensive Fall Decorating Ideas: Toilet Paper Pumpkins
Mason Jar Fall Luminary

Source: Create Craft Love
The beautiful fall decors in shops are what inspired her to make this DIY mason jar fall luminary.
This lovely interior design adds a bit of spice to the fall season to your house!
DIY Fall Crafts: Candy Corn Button Art
This fun and easy DIY fall craft is perfect for kids! Just glue buttons in a candy corn shape onto a piece of paper, and you're done. You can customize it by adding your own touches, like glitter or leaves. I love it!
DIY Fall Brushstroke Candles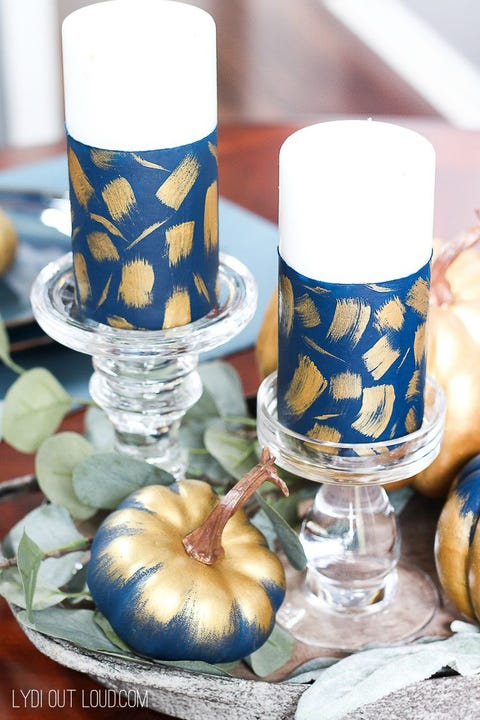 Source: Lydi Out Loud
These candles are super cute and easy to make! You can customize them by adding your own touches to match your decor, style or colors in your home.
DIY Hydrangea Wreath for Fall
This DIY Hydrangea Wreath for Fall is super cute and easy to make. I love it because it's customizable and you can add your own touches, like adding flowers or changing the colors.
Easy DIY Fall Decor with Painted Acorns
Dollar Tree Pumpkin Wreath
DIY Dollar Store succulent pumpkins
Source: The Inspiration Board
She went to the Dollar Store to purchase foam pumpkins and succulents, which she paid less than ten dollars for!
This amazing DIY pumpkin succulent planter will be a great additional decoration for your house during fall!
DIY Fall Decorations — Acorn Wreath from the Dollar Store
Distressed Dollar Store Pumpkins with a Crackle Finish
Source: The Kim Six Fix
This distressed pumpkins with a crackle finish will not only give your dull pumpkin a much-needed boost, but it also makes it seem like it is expensive even when it is just school glue and paint!
She had an amazing idea in creating this project since the materials may be found in your own home!
Cheap Fall Decor: Ombre Spray Paint Wine Bottles
Fall Yarn Hanging Decoration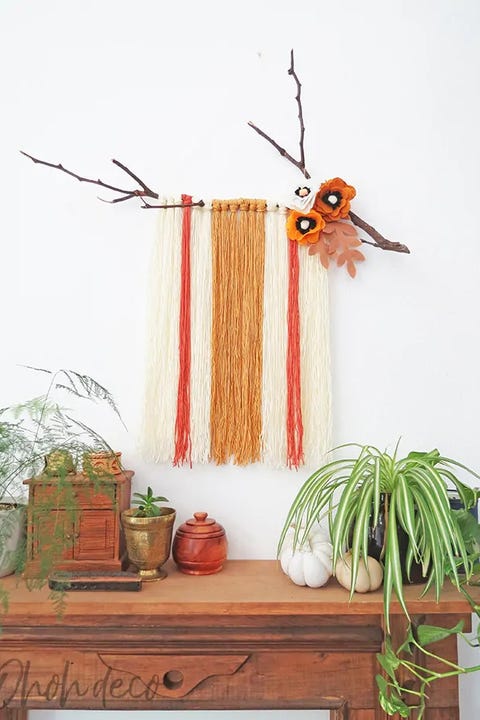 Full tutorial at Ohoh Deco
This super cute, easy to make, DIY fall decor is perfect for your home! You can customize it by adding your own touches, such as flowers or changing the colors.
Inexpensive Fall Decorating Ideas — Modge Podge with Dollar Tree Pumpkins
Boho Eucalyptus Wreath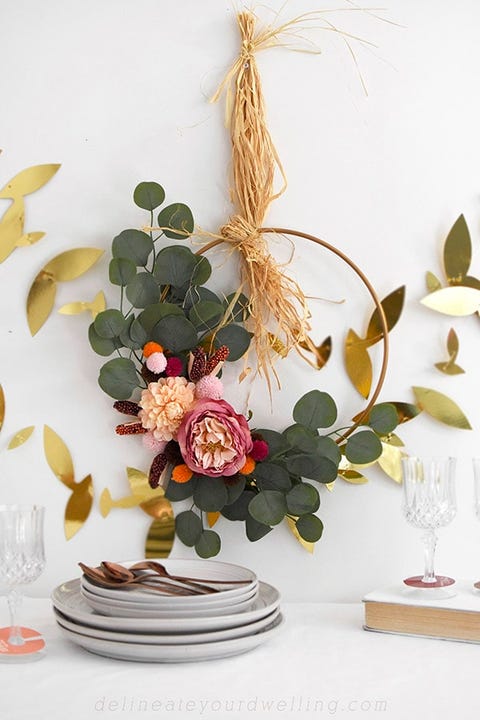 Source: Delineate Your Dwelling
For a more neutral and less… orange… fall, try this wreath! You could change out the straw hanger for a burlap ribbon or any other colored ribbons as well.
DIY Pumpkin Decor Games Tic Tac Toe
Fall Leaves Garland
Source: Easy Peasy Creative Ideas
She bet that this beautiful DIY fall leaves garland is an easy-to-do craft that will save you both time and money.
You can even use this DIY for any autumnal event! It's vibrant colors are perfect for fall and it looks very pretty.
Fall Sunflower Jars
Source: Crafting in the Rain
She is a big fan of fall jars with flowers, wherein she added these cream-colored sunflowers from the Dollar Tree.
This table arrangement is not only inexpensive, but it also looks fantastic! The real flowers and jars will stand out against the glass tabletop.
DIY Inexpensive Fall Decor: Boho Garland Design
DIY Fall Foliage Mobile
Source: Happiness is Homemade
You can use thread. twine, ribbon, or anything with these to make it even more customized to your home or front door or fireplace aesthetic.
DIY Neutral Acorns Wrapped in Twine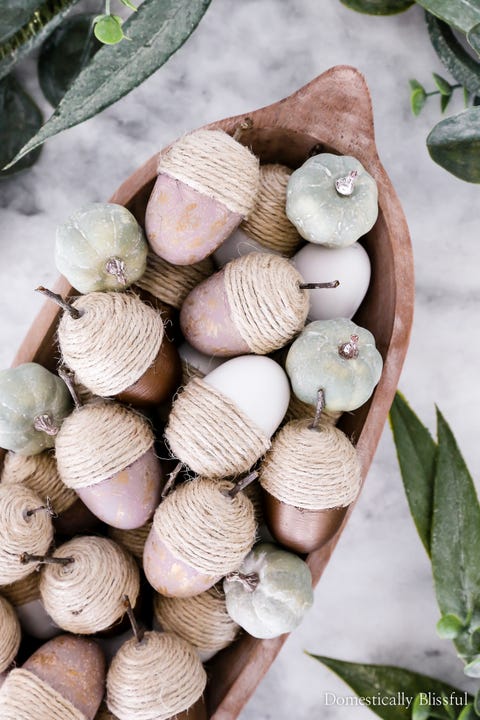 Source: Domestically Blissful
These acorns wrapped in twine are the perfect addition to your fall decor. They are super easy to make and look so cute!
Dryer Vent Fall Pumpkin
Source: You Brew My Tea
Her teacher gave her this wonderful DIY fall decor idea when she was a child. And now she has the chance to share it with others!
This cute dryer vent pumpkin centerpiece is a lot of fun to craft!
DIY Fall Customizable Colors Pumpkin and Grasses Wreath
Fall is a great time to get crafty and add some fun decorations to your home. There are so many cute DIY projects out there, and it's easy to find inspiration online. This pumpkin and tall grass wreath is one of my favorites – it's simple to make, and the finished product looks really cute.
Cheap Fall Decor: Candle Hurricaine
DIY Fabric Tape Pumpkins
Source: Mountain Modern Life
She's a fan of fabric tape, pumpkins, and anything antique, which is why she used it to create these beautiful DIY fabric tape pumpkins.
The hue and design of her brown plaid fabric tape makes it ideal for the season!
DIY Confetti Pumpkins
Knock Off Target Dollar Spot Navy Pumpkins
Source: Wilshire Collections
You may now create your own Target-style navy pumpkins this fall, but even better!
She was really inventive when she decorated the pumpkin with non-traditional hues (loving the color!). She also succeeded in pulling it off!
Give Thanks Pumpkin Mantel
Source: A Diamond in the Stuff
She wanted her decorations to be in warm, neutral hues for the fall, especially the brown ones.
She created this fantastic give thanks pumpkins mantel out of her dollar-store pumpkins. What a fantastic way to welcome the season!
Wood Bead Farmhouse-Style Pumpkin Decor
Your local craft store should have these wooden beads (or you could find them on Amazon here). You could also paint the beads white, orange, yellow, or whatever colors fit your aesthetic.
Copper Pumpkins Fall Centerpiece
Source: Up to Date Interiors
She believes that you could make a cheap fall decor look higher end without spending an arm and leg.
This stunning copper pumpkin centerpiece is a simple and inexpensive project that will only set you back $2! If you enjoy the combination of copper and white (just like me!), well this is for you.
Cheap and Easy DIY Candy Corn Centerpiece with Floral Arrangement
DIY Candy Corn Wreath
I saw one of these at HomeGoods for $60! WHAT!? Make it yourself with some candy corn, a hot glue gun, and a Dollar Store foam wreath for like $5-10!
DIY Sunflower Wreath
Inexpensive Fall Decorating Ideas: Pinecones, Pumpkins, and Hydrangeas
Dollar Store Fall Throw Pillows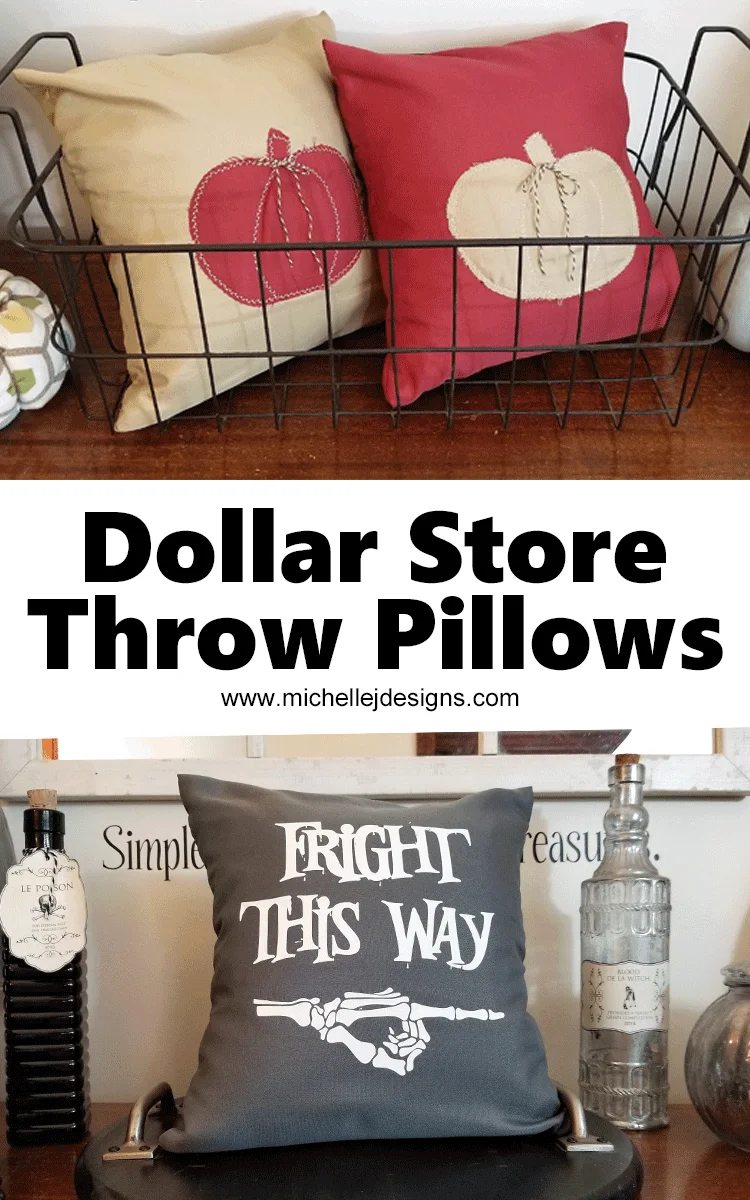 DIY Grapevine Wreath
My favorite part about this is that these grapevine wreaths can be used for almost every season, and are highly customizable. Add faux pumpkins, add some cute owls, see what you can find to make this vintage wreath more modern or just fit your home's vibe.
Rustic Wood Pumpkins
Source: Thrifty Northwest Mom
She knows that creating rustic fall decors doesn't need to be pricey.
She repurposed some yard materials into a beautiful rustic wooden pumpkin with her creativity! These are fantastic decorations that you may use for Halloween or a harvest-themed party.
Easy DIY Fall Wreath
Nothing says "fall" like a cozy wreath hanging on your front door. This easy DIY Fall Wreath is perfect for any level of crafter, and will brighten up your home this season.
DIY Pumpkin Topiary Tower
Cheap Fall Decorations: Pinecones and Candle Hurricane
Inexpensive Floral Centerpiece with Sticks and Dollar Tree Burlap Ribbon
FAQs for Fall Decorating
When should I start decorating for autumn?
The start of September is the time to start thinking about fall decorating. While some may choose to wait until October (and some start in August), there are a number of things you can do to get ready for autumn.
One way is to begin by switching out your pillows and throws. Replace light colors with richer hues like oranges, reds and yellows. You can also add pumpkins, leaves and other autumn-themed decorations around your home.
If you want to take it a step further, consider doing some DIY projects to create your own fall decor. There are many easy projects that can be completed in just a few hours, such as making a wreath or banner from leaves or creating a centerpiece using pumpkins and gourds. By starting early, you can allow yourself plenty of time to enjoy the seasonal decorations throughout the fall months.
How do you decorate outdoors for fall on a budget?
Which of these super cute dollar store DIY fall decorating ideas are your favorite?