If you are looking for a last minute, clever, easy do it yourself Halloween costumes, look no further! You can create a group costume with just a few simple supplies. All you need is some basic clothing items and a little bit of creativity and BAM! You've got yourself DIY family Halloween costumes!
Halloween is a great time for family bonding and creativity. These 20+ creative DIY family Halloween costume ideas will help you create a fun, easy, and memorable experience for your children this year!
In today's world of overpriced costumes that often don't have the personality or uniqueness we want, it can be tough to find an idea that speaks to our own quirky sense of humor. But fear not! We've scoured the Internet for some fantastic ideas from people who are just as clever as we are. So grab those old clothes in your closet and these materials from around your home, because with a little imagination, you'll find yourself able to make anything happen on October 31st… and at a fraction of the cost too!
Supplies you might need for some of these DIY Family Halloween Costumes:
Hot glue gun
Yarn
Old t-shirt
Hair ties
Sewing machine (or just a needle and thread since most of them only require a stitch or two)
What are some good family costumes for Halloween?
We've made a big list of some of the top do it yourself family Halloween costumes. Many of them are very original but some are fan favorites from Disney and even the Avengers, too. These family costume ideas are great for last-minute Halloween costumes using just what you have inside of the house (or what you can get from Amazon with 2 day Prime shipping 😉 ).
DIY Family Star Wars Halloween Costumes:
I love these Star Wars costumes for the whole fam. You can use them and mix and match them for however many are in your crew. Many of them are easy family Halloween costume ideas since you can make a last-minute costume for Princess Leia or Luke Skywalker using what you already have in your closet at home.
Darth Vader might be tough to come by, but the rest of these outfits are super simple DIYs using what you probably have in the closet already to make the perfect costume!
This is one of my favorite DIY family Halloween costumes! Let's be real, we all have the clothes and accessories that we could use for ourselves and the whole family to looks like Luke, Leia, and Han from Star Wars. You could even add Rey and Fynn too to that mix.
This is also a STELLAR (no pun intended 😉 ) DIY group Halloween costume for parents and kids or friends alike.
Luke, Leia, and Han Solo Star Wars family costumes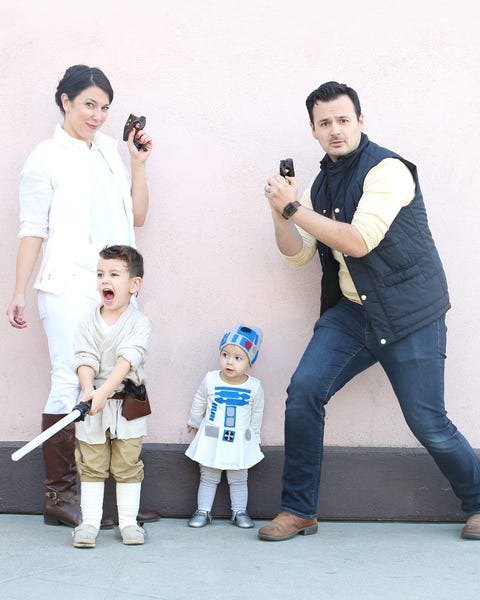 Source: Lovely Indeed
Stranger Things Costume Ideas
Disney's Inside Out Family Halloween Costume
A movie-themed Halloween costume? Try Inside Out!
This DIY family Halloween costumes are very dynamic and fun! It doesn't even require any complicated costumes or stitching. You just need to coordinate your family's outfit's colors to the respective characters of the movie. Isn't the baby Anger adorable?
If you haven't watched Inside Out yet, check it out in Amazon Prime or Disney +.
Guardians of the Galaxy Group DIY Family Halloween Costume
Showcase the power you hold as a family (at least at the Halloween costume contest) with these heroes from Guardians of the Galaxy group costume!
Look great as a superhero even without going all out on the costumes. The tip, truly, is to hone in on the face paint to give a polished, authentic look to the characters you dress up as.
DIY Nutcracker Halloween Costumes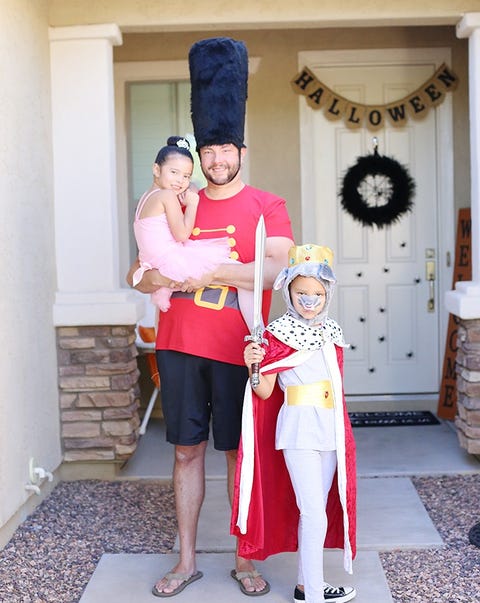 Source: See Vanessa Craft
Looking for a unique and cute family costume idea for Halloween this year? Try making your own nutcracker costumes! This is a great DIY project that the whole family can participate in. Plus, it's a costume that you'll be able to use year after year.
Little Mermaid Family Costume Ideas
DIY Family 101 Dalmatians: Cruella, Dog Napper, and Dalmatian puppies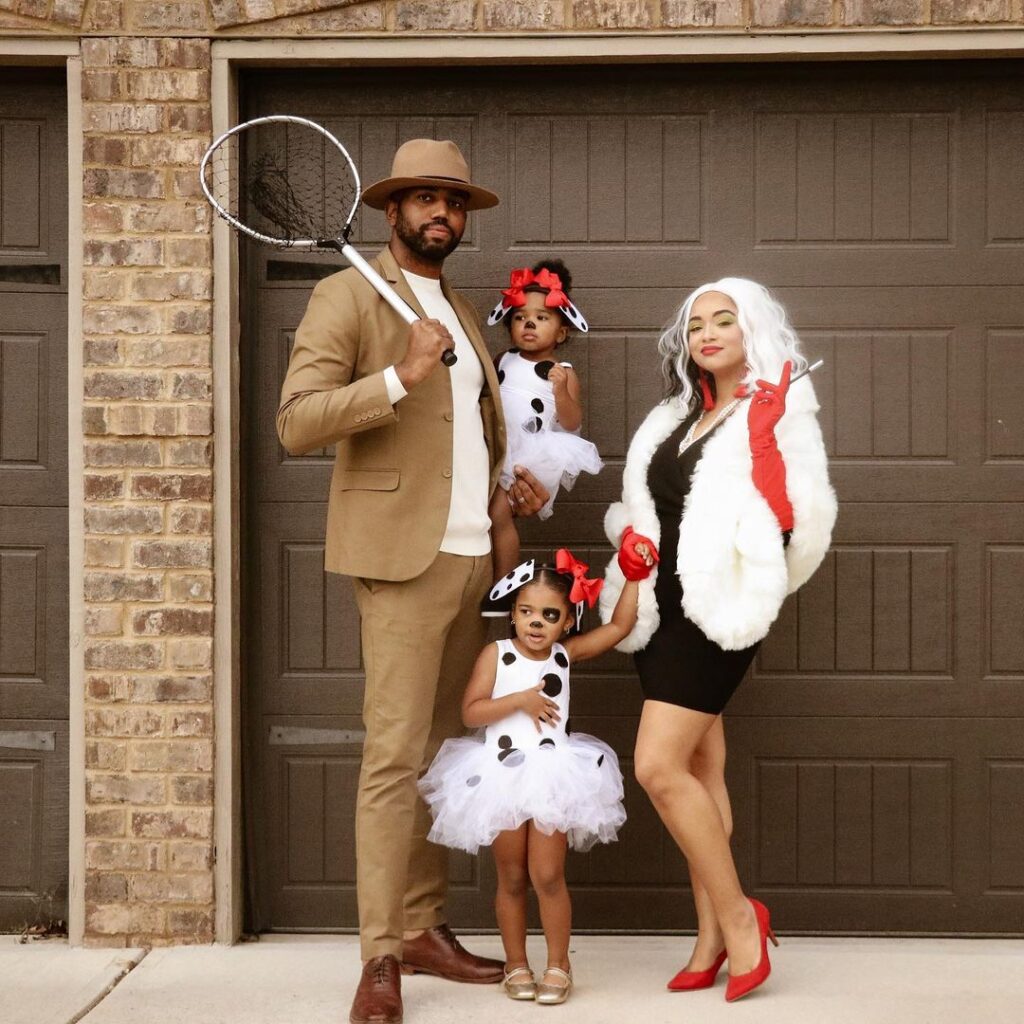 DIY Halloween Costumes: No-Sew Care Bear Costumes
These Care Bears costumes look so cute and charming and you don't need to sew one stich to make them!
This ensemble is perfect for anyone who's not very skilled at the needle as these don't require any sewing! Vanessa really went in-depth in this blog post on how these lovely costumes were made.
DIY Family Beanie Babies Collection
(Bonus points for the TY tags! That completes these costumes for the whole fam!)
DIY Harry Potter Family Halloween Costumes
The Harry Potter series has been a fan favorite for years, and this Halloween, you can dress the whole family as characters from the beloved books and movies with these cute family of 3 Halloween costumes. For a cute Harry Potter and Hermione costume, try pairing a black robe with round glasses and a wand for Harry, and a long skirt, blouse, and scarf for Hermione. Don't forget to add a mandrake baby for an extra touch of cuteness for the whole crew.
Rainbow Color Family DIY Halloween Costumes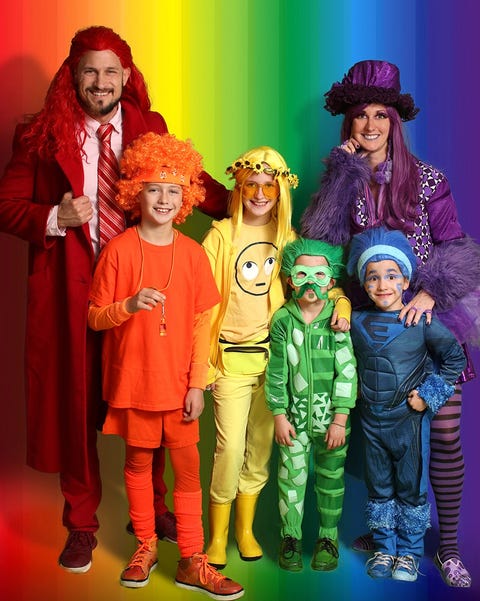 Source: Loft 3 Photography
The Wizard of Oz Halloween Costume
Have a member of the family who's a big fan of the childhood classic The Wizard of Oz?
Then, wouldn't it be such a splendid time to have to trot down the streets as your trick and treat in this amazing garb? These charming kids in their Tin Man and Dorothy attire can definitely steal any show!
Easy DIY Halloween Costume for Family of 3
This one has got to be one of the easiest DIY family of 3 Halloween costumes out there!
The only part of this ensemble that requires much preparation is the toddler's shark's suit, but when these costume pieces come together, you can create the most totally harmless and wholesome shark attack there ever was!
Hungry Hungry Hippos Family Costume
When you have a baby at home, sometimes they just act like a hungry, hungry hippo all the time. Go with it, and dress up like the classic board game with monochromatic suits and hippo hats for these family of 3 Halloween costumes.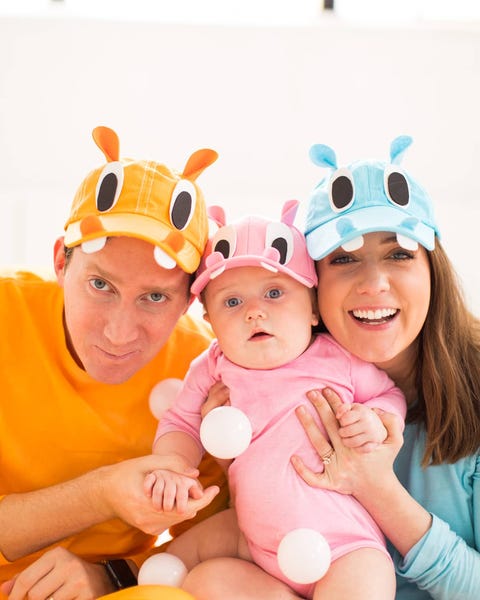 Source: Sugar & Cloth
Family Halloween Costume: Despicable Me
Anyone who'll see a family of three adorable minions would surely go ba-na-na-na for these Despicable Me-inspired costumes. There are so many variations to this ensemble but to have a cast of minions in your family is a fun experience you shouldn't have to miss out on this Halloween.
DIY Super Mario Family Halloween Costume
From this timeless Mario video game, each family member can choose his favorite character plus costume for the purpose. all kinds of things are available, and they can be sized from baby to adult. You may be interested in trying out a DIY project yourself!
DIY Bubble Bath Family Costume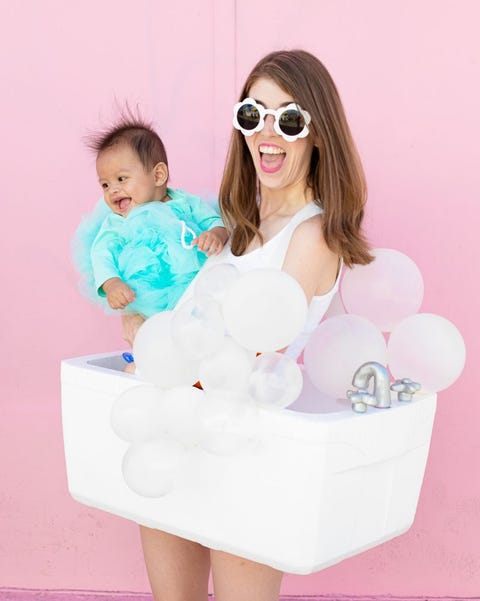 Source: Studio DIY
Family Trophy Shelf Costume
This family trophy idea is gold! Dressing up in sportswear spray painted with gold is such an ingenious idea! There's no need to worry about the outfits as these can be athletic clothes you and your family already have worn once in a sports competition or two.
DIY Moon and Stars Halloween Costume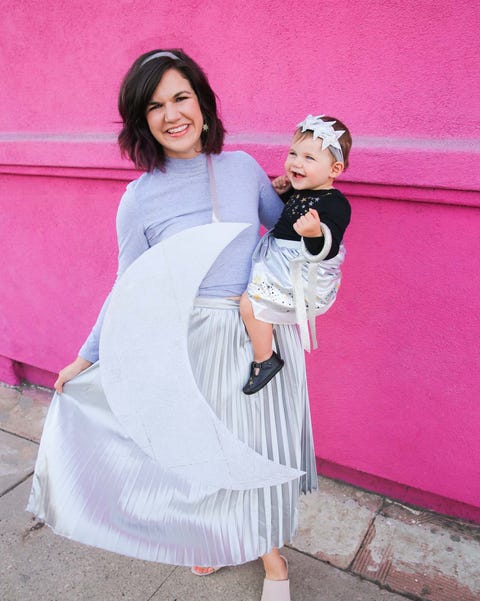 Source: Sarah Hearts
DIY no-sew family halloween costume: Shark, Lifeguard, Surfer
Nothing could be more adorable than a baby shark!
Aside from that baby shark costume of course, everything else in this costume idea is very easy to prepare, and can even be thrifted! Certainly, you don't need to spend a fortune to look cool as a family this Halloween!
The Von Trapps Family Costume
A family dolled up in these Von Trapps family costumes are just some of my favorite things.
If you're a family who are music-inclined, then consider serenading the neighborhood with The Sound of Music tunes as you amble around in these vintage yet classy garb.
DIY Willy Wonka and the Chocolate Factory Family Costume
Dress your family as Willy Wonka, Violet Beauregard, Mike TV, Veruca Salt and an Oompa Loompa from the 1971 Roald Dahl inspired Willy Wonka and the Chocolate Factory. You could also use this for a Charlie and the Chocolate Factory inspired look (ya know, if your kids make fun of you for being old like mine did when I showed the the original 😉 )
Taco Truck Family Costume (these babies in taco costumes sent me!)
Fans of Mexican food, especially yummy tacos? Then dressing up your family in these taco truck ensemble would certainly be a great idea! It'd be so cool seeing baby tacos marching up the road on Halloween night!
DIY family costumes for 3 — Weather Inspired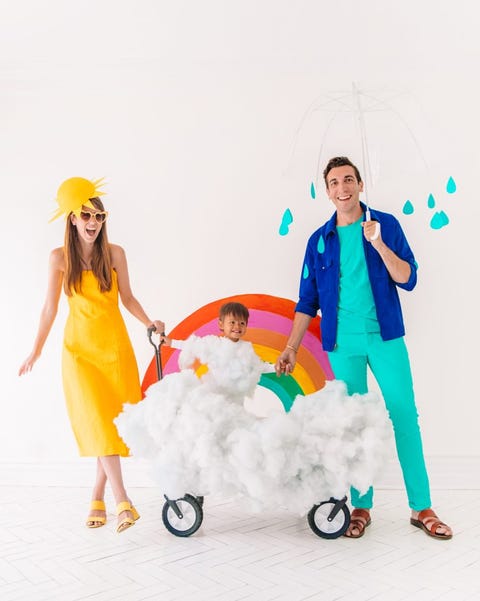 Source: Studio DIY!
This is one of those unique family of 3 Halloween costumes that can be customized a lot using what you have in your closets and a little imagination. These family DIY Halloween costumes could include wind, snow, cloudy, etc. Have fun with it!
DIY Family UP Costume
The Starbucks Family Costume
Now, isn't this such a brilliant idea? Why not turn you and your kids into your favorite Starbucks drink (ahem, Pumpkin Spice Latte) and have the Dad be the barista? The whole neighborhood will surely adore these outfits a whole latte. (See what we did there? *wink*)
SUPER simple DIY Strawberry Banana Family Costume
I loved this super simple, super sweet mother-daughter Halloween costume. Just color block dresses, some tulle, and maybe some tape to complete the outfit.
Duck Dynasty DIY Halloween Costume for the whole family
Now would you look at this gang of duck hunters flanking a seemingly harmless and innocent duck! So adorable for these family of 3 Halloween costumes!
Jacqueline herself shared how she created this very charming duck suit for their baby. The hunters' camouflage and plaid shirts were store-bought to complete the ensemble. But they of course can be thrifted.
DIY family of 5 costume — Peter Pan
Finding Nemo unique family of 3 Halloween costumes
A Christmas Story Family
It may be Halloween, but no one's stopping you and your family from dressing up as the characters in the classic holiday film A Christmas Story. It'd be a fun time seeing your friends and family put two and two and figure out this whole movie-inspired ensemble.
DIY Where The Wild Things Are Costumes
Ghostbusters Family Halloween Costume
Nothing says Halloween more than ghosts (or the lack of it, all thanks to Ghostbusters)! Don these super cool ghostbuster costumes as you battle the supernatural forces you will come across this Halloween.
DIY Family of 3 Jurassic Park Costumes
Mary Poppins DIY Family Halloween Costumes
Aren't these costumes just supercalifragilisticexpialidocious? These look so posh and cool. Wouldn't you love seeing your toddler in that penguin suit?
Bob's Burgers DIY Family Costume
Here's a very fun family Halloween costume idea if your family's a fan of the animated adult sitcom Bob's Burgers!
The uncanny resemblance of this family costume photo to one of the show's poster is both hilarious and adorable! Since the show is set in the contemporary time, there's no need to hunt for complicated materials and suits from stores. Only the hamburger suit requires time and effort to assemble, and instructions for such are already available on the Internet.
Family Peter Pan Costume for Halloween
Wouldn't you love to fly to Neverland on Halloween with these costumes that you can easily find in your and your children's wardrobe? Just your normal nightgowns and jammies will do the trick, but this whole ensemble will absolutely knock anyone's socks off once your whole family has come together to create a nostalgic and dreamy image of a childhood favorite tale.
Dragon, Knight and Princess Costumes
If you're a family of three, this Dragon, Knight, and Princess costume would be such a splendid idea! A toddler dressed as an otherwise harmless dragon is one of the most wholesome things I have seen!
Scooby Doo Squad Family Costume
Halloween and mystery go well together! So no other Halloween idea could be more than right for Halloween except for these Scooby Doo gang costumes! With orange and purple dresses and white and green shirts and jeans easily available in your family's closet, putting together these costumes would certainly be a walk in the park. What's even more special about this get-up? Your beloved pet dog(s) can tag along, too!
DIY Rock Band Family Halloween Costume
No need to buy…. anything for this costume! Maybe the inflatable guitar would be a fun touch, but I bet you have everything you need to make this DIY costume for the whole family in the closet.
Goldilocks and the Three Bears Family DIY Halloween Costume
Go visit her page for a TON of cute family ideas! But this one caught my eye with only a few extra accessories (which you can for sure modify or snag fast from Amazon).
Family DIY Winnie The Pooh and Friends costumes for Halloween
Super cute family costume (especially if moms expecting a little one!). Have someone dressed up as Winnie the Pooh, Eeyore, Piglet, Tigger, Christopher Robin, Rabbit and the rest of the gang, too. Have fun with it.
Little Red Riding Hood and the Big Bad Wolf (and friends) for a DIY Costume
This super cute family costume (or it could be a friend group too!) is a blast to try out with the classic fairy tale fable. Some extra accessories are needed for the wolves, but for the most part, I bet you have everything you need to make this a DIY family costume success.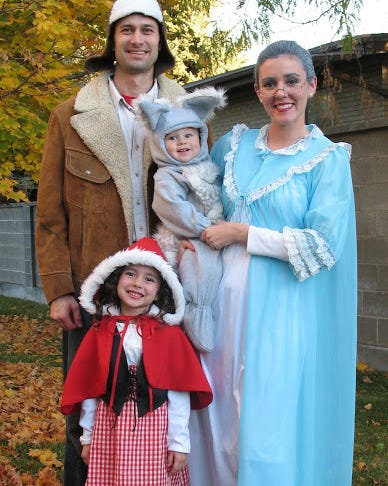 Source: The Craft Patch
Mickey Mouse, Minnie Mouse, & Friends Costume for the Family
If you're a big Disney fan, this is a super fun and super easy set of characters to go as. Mickey, Goofy, Donald, Minnie, Pluto, and more can all be your outfit of choice, or you can check out all of these options.
Super Mario Family Costume
I'm pretty sure you've all seen a baby Mario and Luigi in those iconic red and green overalls and caps. But how about an adorable (and certainly not the antagonist here) Wario? I'm pretty sure it's my first time seeing this iteration, and it's totally cool!
Even greater? These costumes can be assembled with casual clothes. Just pop in that tiara for Princess Peach and the caps on our beloved plumber brother's heads, and it becomes easily one of the most adorable family Halloween costumes I have ever laid eyes on. For those curious, May also graciously shared the tutorial for creating those Mario hats.
Cops and Robbers do it yourself costume
This one can be fun! You could do Mom being the cop with all the kids being robbers… of her sanity 😉
How to Train Your Dragon DIY Family Halloween Costume
Nothing can be more fiery than a family of friendly Vikings mounting a friendly dragon! What a great idea having the dad as the dragon as well!
Where's Waldo for the whole family
The Addams Family costumes for the whole family
Truly get into the spooky season with the Addams Family-inspired costume!
This set of outfits is very easy to prepare as it's mostly made up of black clothes that you can scour from your family's wardrobe. From striped shirt, collared black dress, and suit and tie, it's a fairly easy one to assemble, without sacrificing the quality of spookiness each outfit will give off. Just go all out on the face paint and other embellishments to truly channel the eccentricity of the Addams family.
Alice in Wonderland Costumes for the Whole Family
A family (or two) dressed in Alice in Wonderland-inspired garb seems to be a staple of every Halloween party or trick-or-treating. And that is absolutely for a very good reason.
There's a whole range of quirky and adorable Alice's Adventures in Wonderland characters you and your family can dress up as without much complication. Cheshire cat in pink-purple jammies has never looked any adorable!
Funny and Easy DIY "Ice Ice Baby" Family Costume
Perfect for baby's first Halloween using the "Ice Ice Baby" lyrics as inspiration!
"Where the Wild Things Are" DIY Family Halloween Costume
"Where the Wild Things Are" sure has a special place in everyone's hearts, as it does in the Halloween scene. Unleash the inner child in you with these "Where the Wild Things Are"-inspired costumes
Buzz Lightyear, Woody, and Jessie from Toy Story
This one might require some more work, but it can be as involved (or not) as you want it to be!
DIY Flintstones family costume
Deer and Hunters DIY Family Halloween Costume
I can't stop fawning over these Deer and Hunters Family Costume! Just look at how chic and stylish these deer are. And what a cute baby hunter that is! That you can save expenses by using clothes already in your children's closet is also a major plus!
Looking to save some money this Halloween season? Check out these DIY family Halloween costumes! Whether you're a fan of the classics like witches and ghosts, or want to try something new, these costumes are sure to get people talking.
There are so many fun and creative ways to make DIY Halloween costumes for your whole family. Here are a few of our favorites!
One great option is to dress up as a team. Get creative and come up with a theme or idea that everyone can participate in. Some examples include superheroes, characters from a movie or tv show, animals, or construction workers.
Another option is to do DIY versions of popular store-bought costumes. For example, you could all be pirates with coordinating eye patches, bandanas, and fake swords, or go as different Disney characters like Belle, Cinderella, and Snow White.
If you're looking for something a little more unique, why not try making your own costumes?
Any DIY Halloween family costume from this roster caught your fancy?
I made sure to include only the best and most creative in this bunch. Not to mention the simplest and less expensive to assemble. You don't need to spend a fortune to have an amazing and adorable Halloween as a family! If anything, having to fix up costumes by yourselves even add up to more quality time with your family!
What costume ensemble are you and your family looking forward to dress this Halloween?