If you are anything like me, there's nothing like healthy competition to kick you into gear with your savings goals! Get started today with these fun money-saving challenges and see what I mean!
Saving money can be hard sometimes. We don't like to save money, we want to spend it! After all, we've worked hard to earn it, right?
And while that is true, saving money should be a priority for you and your family. It's a bit of a pain but so much good comes out of it! Putting aside money for your emergency fund, vacation fund, kids' college funds, retirement, buying a new house, and whatever else you want to save money for should start to be your #1 priority budget-wise.
While we may know that truth, it's hard to get into the savings mindset sometimes. This is exactly what prompted me to share these AMAZING money-saving challenges!
A healthy dose of competition may be exactly what you may need to help hold your hand and show you exactly how easy it can be to save a lot of money in a small period of time.
Get ready to have your socks knocked off by these amazing bloggers and their money-saving challenges! Check out their blogs for more money-saving tips and tricks.
1. Dime Money-Saving Challenge
I love this Money Saving Dime Challenge because it's so simple! If you using cash envelopes (and you really should be!) this is the perfect thing to do with all your loose change. You could also create a 2 liter with each type of change and make it even more fun!
This is a favorite of mine because this is one the kids can get into too. They are never too young to learn! Here's what the first month of saving this way would look like:
Week one – .10 (.10¢ savings total)
Week two – .20 (.30¢ savings total)
Week three – .30 (.60¢ savings total)
Week four – .40 ($1 savings total)
2. Penny Challenge
This one is a bit different than the first one, as you are saving a different amount of pennies each day. As the label below explains, this penny challenge will help you save over $650 in one year! I like this as an idea to help save for the holidays.
Week one – .01 (.01¢ savings total)
Week two – .02 (.03¢ savings total)
Week three – .03 (.06¢ savings total)
Week four – .04 (.10¢ savings total)
3. $5 Savings Challenge
I'll admit that the name of this one is a teeny bit deceitful. However, if you can handle the so-called $5 challenge you can save up over $7,000 by the end of the year. The savings pattern looks like this:
Week one – $5 ($5 savings total)
Week two – $10 ($15 savings total)
Week three – $15 ($30 savings total)
Week four – $20 ($50 savings total)
You can see how this one really adds up quickly!
4. $1 Money-Saving Challenge
This $1 money-saving challenge is very similar to the one above, except you are saving an extra dollar each week for a grand total of $1300+ by year's end. The amount you put away will increase by a dollar each week, following a pattern like this:
Week one – $1 ($1 savings total)
Week two – $2 ($3 savings total)
Week three – $3 ($6 savings total)
Week four – $4 ($10 savings total)
Money Saving Challenge – Weekly Saving Challenge
5. 12-Month Money Saving Challenge
If you have a job where you get paid monthly (such as a teacher), it may be easier to save a larger chunk each month rather than weekly. In that case, this 12 month money-saving challenge might be perfect for you!
Week one – $25 ($25 savings total)
Week two – $50 ($75 savings total)
Week three – $75 ($150 savings total)
Week four – $100 ($250 savings total)
Related post: 4 Tips for Getting Out of Debt on a Limited Budget
6. 12-Week Savings Challenge
Does the idea of taking on a savings challenge for an entire year intimidate you? Why not try a quarterly challenge instead? While this is called a "travel savings plan", you definitely do not need to use this to save for travel. In fact, this is the perfect way to jump-start your emergency fund!
The savings amount are pretty varied on this one, so just follow the graphic below. Of course, you can switch the weeks up to make it work better for your family.
7. Save $1000 in 12 Weeks
Here's a similar way to get together $1000 in just 12 short weeks! I like that you never have to save more than $100 in this money-saving challenge, as it makes it seem a bit less intimidating.
8. 6 Month Money-Saving Challenge
Here's a way to save $500 over 6 months. This one isn't too intimidating, especially if you break it up into weekly amounts. Again, the monthly savings amount varies, so just follow the chart below!
9. Save $10,000
Okay, let's step our game up a bit. Why not shoot for saving $10,000 in a year? For some people, this may seem impossible, and if so, that's okay…start with one of the other challenges above. However, if you can stretch your pocketbook I highly encourage you to give this a try—just think of the financial freedom and security $10,000 can bring!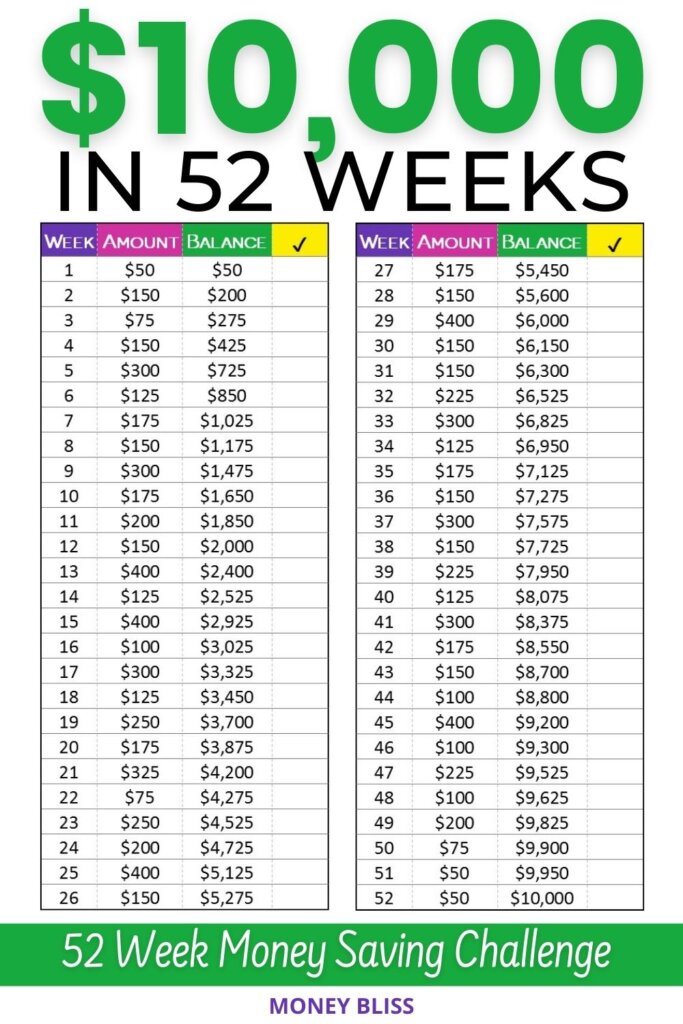 10. Save $20,000
This one is really going to challenge you but if you can complete this money-saving challenge it can be absolutely life-changing! This is the perfect way to save up a downpayment on a house, or start a college fund or retirement savings.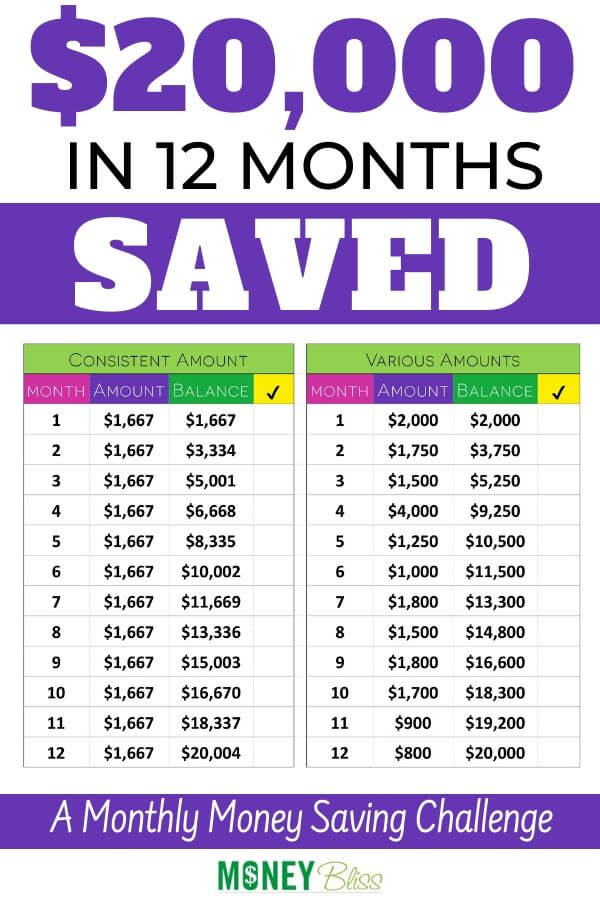 How to Set Aside Money for a Money-Saving Challenge
Now that you've seen how a little can add up over time, let's talk about how you can set the money aside to start saving. For some people, this challenge is as simple as just setting aside the money.
However, most of us will have to make a real effort to begin saving. In this case, you can tackle setting aside money in one of two ways. You can make more money by taking on a side hustle or gig. Thankfully, you can do that right from home with this list of 30 real ways to earn money from home!
Secondly, you can also start making some major lifestyle changes to get the money set aside. Here are some money-saving hacks from an extreme cheapskate as well as 10 weird ways to save money to get you started! Plus, make sure to check out this post with 5 lifestyle changes to really save money
Are you broke? If so, you need to read this article about how to save money when you're broke as well as this one about how to save money when you can't afford it
What kinds of money saving challenges are you in need of? Tell me in the comments and I'll find them for you!