100 Bullet Journal Ideas to Organize Your Money – Best bullet journal budgeting tools. How to use a bullet journal for budgeting. Bullet journal ideas for your money.
Bullet journals are the hottest thing right now, and I am LOVING them for how they can help you organize your money!
If you are a go-with-the-flow type of person, then a rigid schedule or budgeting program isn't going to work for you. Bullet journals give you the freedom to really take control of your money using methods that will work for you.
But, maybe my favorite thing about bullet journaling is that you can get a bullet journal for less than $10! All it is is a blank notebook after all! No more of those $50+ planners when you can just order one of them for less than $8 from Amazon.
Related posts:
Check out these bullet journal ideas to organize your money:
I absolutely love how Start A Mom Blog uses the jars to show her savings progress! So cute and a great visual aid. Plus, the actual number progress is great, too!
This super simple expense tracker and spending tracker helps to super easily manage your spending habits. It can also be customized to make it easy to remember to track your finances at a glance.
This Bujo savings goal tracker has such a cute layout for inspirations to reach your financial goals.
If you are a graph person, you are going to love this savings tracker! It's especially great when you have a bunch of different savings accounts and funds going to long-term goals! This is a really great way to track progress.
This spending log bullet journal is simple, elegant, customizable, and makes tracking spending fun 🙂
This tracker helps you set a budget and track how much comes in and how much gets spent. It's a fantastic one page spread that helps you stay on track.
This bullet journal expense tracker has a little bit of everything inside: bills, 401k contributions, savings accounts, bi-monthly bills (you could also add a section for bi-weekly bills or an emergency fund tracker), and more.
This monthly budget from Little Coffee Fox is really great! You can see how much you have left to spend in each budget category and there's room for when you have gone over, too.
This could be really great for helping you to save the money that is left at the end of each month!
Source
This easy to use money tracker bullet journal takes up the full pages and makes it easy to see where your money is going (or has already gone).
Source
This weekly bullet journal expense tracker makes it easy even if you don't think you're super crafty!
I just had to laugh at this one! It's a very effective page to help quit spending money unnecessarily. But life is always better with some comedy!
I just think that of all of the bullet journal budgeting spreads, this is the prettiest.
Simple, elegant, easy to read… everythign you need without buying expensive pens and other tools. 🙂
This monthly bills tracker layout keeping bills on one side for 12 months and subscriptions on the other, again for 12 months. The subscriptions tracker on the next page helps make sure that there are no random subscriptions going unused draining your bank accounts by the end of the month. You can change the time period for this to add more details or check it semi-annually instead of for the whole year.
This speaks to my over-analytical brain! Not just are you tracking that bills got paid but also tracking household usage which I think it just as important that bills get paid on time 😉
This bullet journal budget tracker is great for a challenge, like planning to save for Christmas or pay off a credit card, or even just be used as a habit tracker.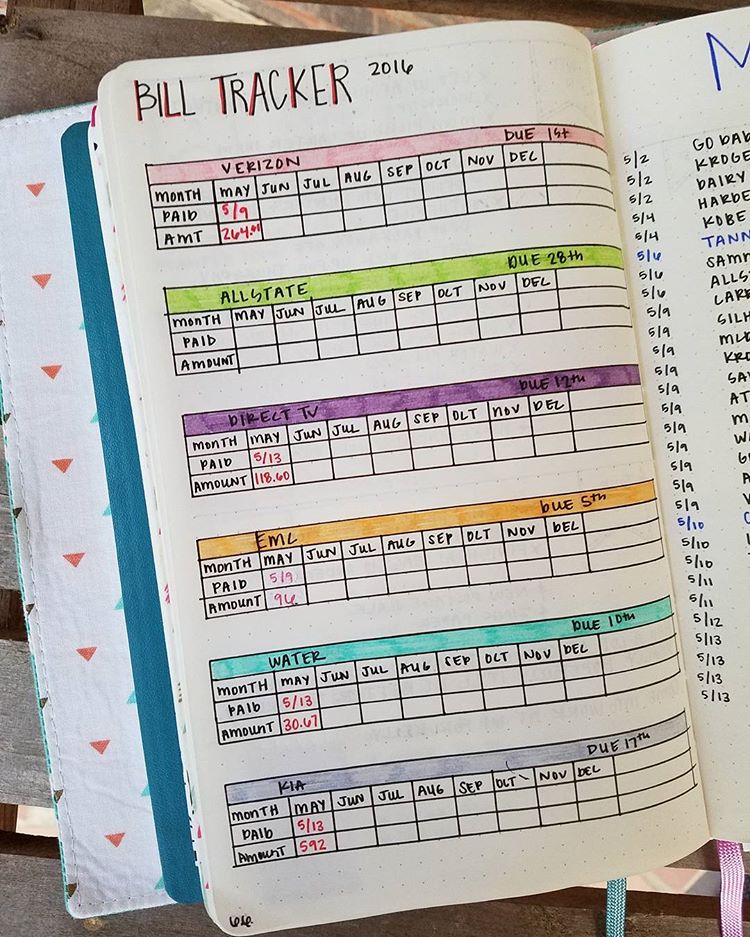 This bill tracker is great to help make sure that all of your bills get paid on time each month! You never need to wonder if you actually paid that bill because you'll have the date and the amount written down right there.
No spend trackers are some of my favorites when you need a good financial reset for your money habits. And this makes it even better! 🙂

These savings goals are anything that works for you (gotta love the customization of these financial bullet journal spreads, right!?
I love this easy to see debt snowball tracker from Debtfree Panda! This really makes it easy to see how much you've paid off and to keep that momentum going!
I love this spending log and savings tracker! It's not sad or boring and you don't even need a fancy pen or even paper with a grid to make it.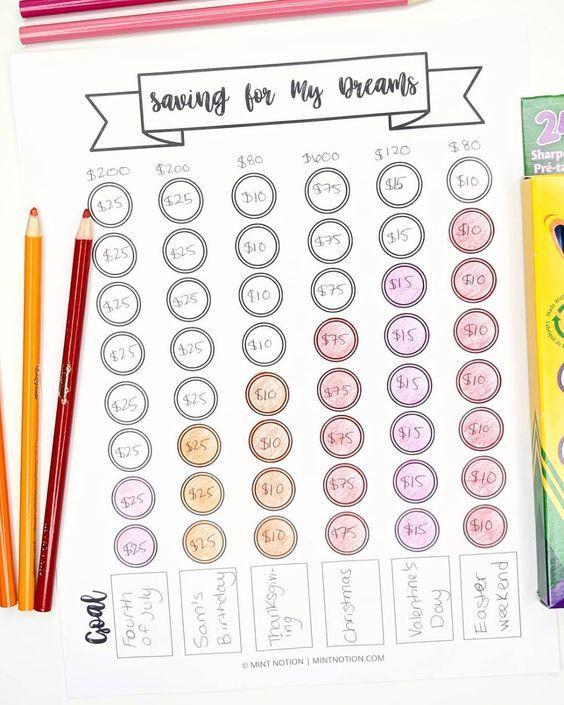 Source
This bullet journal finance spread is perfect to help planning your money (and entertainment 😉 ) that you want to do each year.
How amazing is her handwriting at The Petite Planner?! Seriously, gorgeous! Plus, I love that the due dates for each card are written down. That makes it so easy to double check that it was paid on time.
The Dream Vacation Tracker is a great idea for tracking your hard work towards your financial goals! You could use this for tracking paying off your mortgage, credit card debt, student loans, or even your savings progress towards your emergency fund, savings goals, Christmas, or even making sure that your money habits are getting better (like making sure you checked your bank accounts each day, or don't miss a due date for the month, or whatever it is that you're working towards).
This is a great and easy saving tracker. All you really need to do is write down the times that you spent money. Super straightforward, but definitely not boring!
And who said that savings trackers had to be boring?! These trackers are so cute and definitely help you remember what you are saving money for!
This one page savings tracker sheet helps track more than 1savings goal on 1 page. Love it!
I love that with this bullet journal you can see the percentages of where your entire paycheck went in the month. It might be more work, but that definitely will put into perspective how much you spend your money in certain places.
Looking for something more maximalist and less minimalist? This helps show how much fun bullet journaling can be for your budget or savings. 🙂
This budget planner has it all inside of this monthly spread. If you do this on a monthly basis (or grab some of the budget printables on this site 😉 ), you'll find that your money habits will be getting better and better.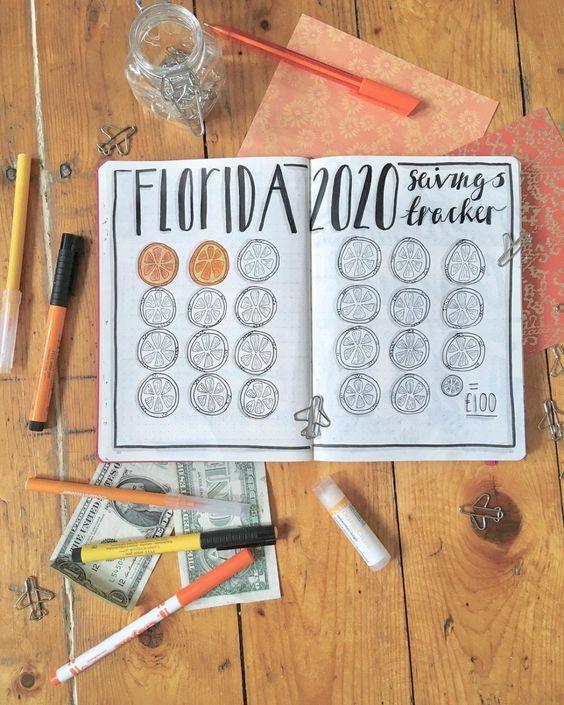 For this savings tracker, I love that you can customize it so much. Not just for vacation savings plan, but also for a debt tracker or student loans pay off tracker or really anything that is a goal of yours.
Now, this one gets super nerdy… and I am here for it! This helps to visualize how and where you spend your money each month. This can add a lot more work to your monthly budgeting in your bullet journal… but if CAN help you to see your spending easier/
(This has no source, but isn't it cute!?)
Simple. easy to use, fun to add stickers or washi tap to… this budget planner can be customized quite a lot!
Source
I especially love the "notable expenses" category in this expense tracker bullet journal.
Source
This savings tracker could also be an expense tracker bullet journal.
Source
This is one of my favorite bullet journal budget ideas! Tracking these goals are always a great way to fast track your savings.
Remember that you don't need to spend a fortune on a budgeting planner. All you need is a blank notebook from Amazon and you're all set!
Don't forget to check out the best bullet journal supplies to get started bullet journaling today!
FAQs about bullet journaling (especially bullet journaling for budgeting):
Can bullet journaling save you money?
If you're looking for a fun and creative way to save money, bullet journaling might just be the answer. Not only does this trendy organizational method help you stay on top of your finances, but it can also be a lot of fun.
One of the biggest benefits of bullet journaling is that it allows you to track your spending and identify areas where you can cut back. Whether it's skipping that daily coffee run or cooking at home instead of eating out, you'll be amazed at how quickly small changes can add up.
But that's not all – bullet journaling can also help you set and achieve your financial goals. From saving for a down payment on a house to paying off debt, you can use your journal to track your progress and stay motivated along the way.
So if you're looking for a way to save money that's both practical and fun, give bullet journaling a try. Who knows – it might just be the key to unlocking your financial success!
How do you start a bullet journal for the first time?
First, you'll need a notebook – any notebook will do, but there are plenty of journals specifically designed for bullet journaling. Next, decide on your format – will you use the classic bullet journal method, or mix it up with some of your own personal touches? The possibilities are endless!
Now it's time to start setting up your journal. Begin with an index page to keep track of everything you'll be adding. Then, set up your future log, monthly log, and daily log. These pages will help you plan out your month, week, and day, and keep everything organized.
Don't forget to add some fun elements, too! Use stickers, washi tape, and colored pens to make your journal truly your own. And if you're feeling stuck, there are plenty of online communities and resources to help you find inspiration and new ideas.
Starting a bullet journal can be a little intimidating at first, but don't worry – there's no right or wrong way to do it. Just jump in and start experimenting – you'll be amazed at what you can accomplish with a little creativity and organization.
How do I organize my bullet journal?
Start by creating a table of contents or index page, so you can quickly locate any information you need. Next, divide your journal into sections, such as daily, weekly, and monthly logs. Use color coding or symbols to differentiate between different types of entries.
Don't forget to leave some extra space in your journal for future plans and goals. You can use a future log to keep track of upcoming events, projects, and deadlines.
Finally, consider using some creative elements to make your journal more fun and engaging. Add some inspirational quotes, doodles, or stickers to your pages. And don't be afraid to experiment with different layouts and formats until you find what works best for you.
How do you keep track of financial goals with a bullet journal?
Here are a few tips for using your bullet journal to keep track of your financial goals:
First, identify your goals and break them down into smaller, achievable steps. For example, if your goal is to pay off credit card debt, your steps might include creating a budget, making extra payments each month, and tracking your progress.
Next, create a visual representation of your goals and progress. You can use a graph or chart to track your debt payoff, or create a savings tracker to monitor your progress towards a down payment on a house.
Don't forget to use your daily, weekly, and monthly logs to keep track of your spending and stay on top of your budget. You can also use your journal to plan out your financial tasks for the week, such as paying bills or reviewing your investments.
And finally, don't be too hard on yourself if you slip up or miss a goal. Use your journal to reflect on your progress and learn from any mistakes or setbacks. Remember, achieving financial success is a journey – and your bullet journal can help you stay motivated along the way.
Does bullet journaling help with anxiety? Especially financial anxiety?
Anxiety can be overwhelming, especially when it comes to finances. But did you know that bullet journaling can help you manage your anxiety and take control of your finances? Here's how:
First, bullet journaling allows you to create a safe and supportive space where you can express your feelings and thoughts. You can use your journal to write down your worries and concerns, as well as your goals and plans for the future.
Next, bullet journaling can help you stay organized and reduce stress. By keeping track of your expenses, bills, and financial tasks in your journal, you can avoid the anxiety that comes with forgetting or losing track of important information.
You can also use your journal to set financial goals and track your progress, which can help you feel more in control of your situation. And by incorporating mindfulness practices like meditation or gratitude lists into your journaling routine, you can further reduce anxiety and improve your overall well-being.
So if you're struggling with financial anxiety, consider giving bullet journaling a try. With a little creativity and organization, you might just find that it's the perfect tool to help you manage your anxiety and achieve financial peace of mind.
More money saving ideas:
Have you tried bullet journaling? What did you think of it? Tell me about it in the comments!