32 Easy & Cheap Dinners From a Rotisserie Chicken
The best invention of the 20th century is Costco. Hands down, no questions asked: Costco is the best. You really should go out right now and get a membership to Costco. If for no other reason than their $4.99 rotisserie chicken.
And what's not to love about a rotisserie chicken? You can pick it up on the way home and have a delicious dinner ready in less than a half hour. For my constantly hungry family of 5, I can make a $4.99 rotisserie chicken last at least a week. With the help of the contents of my fridge, freezer, and pantry, we can easily whip up something without ever having to buy more food to add.
But did you know that there are more ways to eat rotisserie chicken than just serving it right out of the container? As delicious as that option may be, there are so many other options! There are so many creative ways to make a plain ol' rotisserie chicken into a different meal every night.
More ways you can save money on food and groceries:
More recipes that you can make:
Need more help with meals? Get my all-time favorite best selling meal plan system for 25% off with the code CAROLINE25. Find out more about the budget-friendly, picky-eater-approved, so-easy-you-can't-mess-these-meals-up, grocery-list-made-for-you, meal plans HERE.
You can also use this sauce as a new take on one of the old classics buffalo chicken dip. Taking the pasta out of this recipe is a great way to make this recipe low carb but keep the taste.
Rotisserie Chicken Salad (best recipe with rotisserie chicken for easy chicken salad)
BBQ Rotisserie Chicken Tacos
Leftover Rotisserie Chicken Caesar Pasta Salad
Rotisserie Chicken Cuban Sandwiches
Chicken Taquitos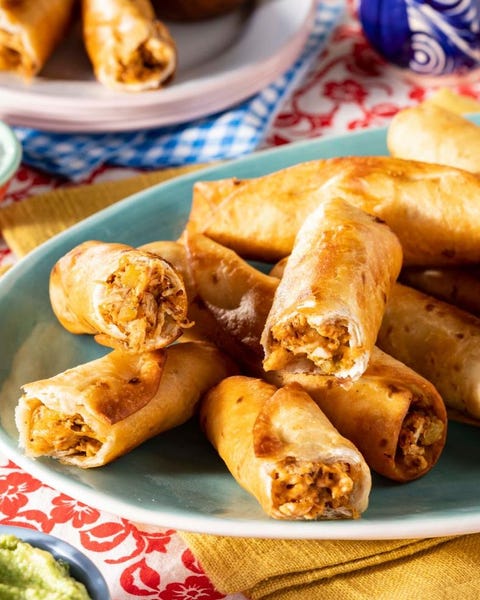 Chicken Taquitos (Get the recipe from The Pioneer Woman )
20-Minute Tuscan Chicken with Penne Pasta
Chicken Bacon Ranch Bubble-Up Bake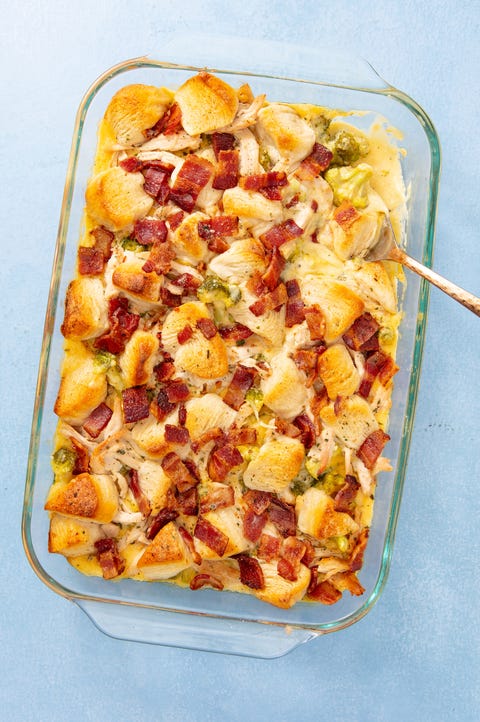 Chicken Bacon Ranch Bubble-Up Bake (Get the recipe from Delish)
Chicken Enchilada Stuffed Zucchini Boats
Creamy White Chicken and Spinach Lasagna
Creamy White Chicken and Spinach Lasagna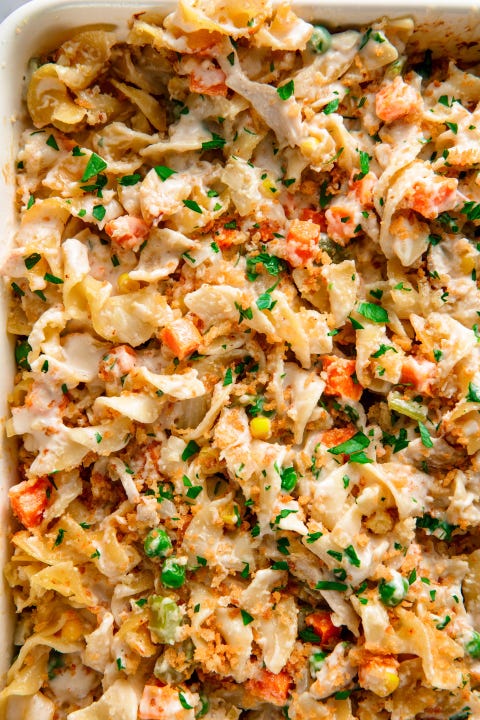 Chicken Pot Pie Noodles (Get the recipe from Delish)
Easy 20 Minute Tuscan Chicken with Penne from Gal on a Mission
If you want to make a quick and easy meal, rotisserie chicken is a great option. You can find them at most supermarkets, and they're usually pretty affordable. Plus, there are so many different recipes you can make with them. For example, this pizza recipe is really simple and only requires a few ingredients.
Another great way to use rotisserie chicken is by making leftovers. You can turn it into a salad, sandwich, or even soup. By using leftovers, you can save money on your meals and also get more variety in your diet.
If you have a rotisserie chicken, some butter for a simple roux, and some pre made pastry dough, you can make an easy Skillet Chicken Pot Pie.
Rotisserie chicken quesadillas are a great way to make a quick, healthy, affordable, AND super customizable meal for the whole family. Here are a few tips for making your own customized quesadillas with rotisserie chicken:
Use leftover chicken. If you have leftover rotisserie chicken, use it in your quesadillas. Same with any veggies you want to use, too.
Use a variety of toppings. Don't just stick with cheese and chicken. Try adding black beans, corn, salsa or other vegetables. You could also use peppers, onions, cilantro, and lime.
Use a variety of cheeses (or whatever kind of cheese you have in the fridge that you need to get rid of). Don't just stick automatically with cheddar cheese. Try using pepper jack cheese, Monterey jack cheese or other types of cheese that you like.
Make it a meal! Add some rice or salad as an appetizer to your quesadilla for a complete meal.
Add a side of chips (or finish off the remaining cheese to make nachos)!
Just havefun with it!
This is a great recipe that is super customizable. You can add peanuts or cashews that are at the very bottom of the bag or box. Remember to taste the recipe for spiciness for your family or yourself.
Super cheap and super filling egg noodles make this recipe super leftover friendly. Use this as a recipe to use up any vegetables (carrots, onion, celery, mushroom, whatever else you have) and any remaining servings of chicken broth in the fridge as well.
If you've got some leftover rotisserie chicken, this shredded chicken tortilla soup is a great way to use it up. You can add some tortillas to the soup for extra flavor and texture. You can also add corn, beans, peppers, and rice to add more fillings to the bowls. This is a delicious chicken soup that you can customize and spice up to your personal taste.
You can use up the end of that greek yogurt you keep forgetting about for some extra protein and to cut calories or you can use sour cream in the tzatziki.
This Chipotle Chicken Chili recipe is perfect for using up leftover rotisserie chicken. Just add a few basic ingredients to the chili, and you'll have a hearty, comforting meal in no time. The chili can be made with or without rice, so it's perfect for any diet. Plus, it's easy to customize with your favorite toppings.
There are many benefits to cooking with rotisserie chicken. Perhaps the most obvious benefit is that it's already cooked, so you can get a meal on the table quickly. Rotisserie chicken is also affordable and versatile. In this recipe, you'll learn how to make Rotisserie Chicken and Bow Tie Pasta with peas. This dish is not only delicious but it's also affordable. The total cost of ingredients for this dish is less than $10!
There is no need to go out and buy fancy shmancy expensive tacos when you can make them right at home with your leftover rotisserie chicken. This recipe for Rotisserie Chicken Tacos with Pineapple Salsa is simple to follow and only takes minutes to prepare. Not only are they delicious, but they are also a great way to save money on your next meal. If you have leftovers, you can easily store them in the fridge for later.
This is a great way to get rid of leftovers in the fridge. You can use up whatever sauce is in your fridge along with any remaining chicken leftovers.
This classics recipe is an insanely delicious and SUPER simple dish. As a bonus, you don't have to make the english muffins, you can use the buffalo chicken topping as dips as well.
Rotisserie Chicken FAQs
How long is rotisserie chicken good in fridge?
Rotisserie chicken can be stored in the fridge for up to four days or frozen for one to six months. When cooked, the meat is juicy and flavorful. There are many recipes that can be made with rotisserie chicken, such as soup, salad, and tacos.
Is rotisserie chicken considered healthy?
Rotisserie chicken is a great way to have a quick, healthy meal without spending a lot of time in the kitchen. It can be used in a variety of recipes, from salads to tacos to casseroles. Rotisserie chicken is also relatively affordable, making it a budget-friendly option for those who want to eat healthy. Costco is one of the best retailers that sells rotisserie chickens for a reasonable price.
With a busy life, hectic schedule, and just zero motivation to cook at dinner time, these easy and cheap dinners have really helped me stay in control of my budget while still feeding my family.
Can you reheat a whole rotisserie chicken?
The answer is yes, you can reheat a whole rotisserie chicken. However, there are a few things to keep in mind. First, make sure the chicken is completely cooled before reheating. Second, reheat the chicken slowly, either in the oven or on the stovetop. Finally, be careful not to overcook the chicken.
If you follow these tips, you can safely and easily reheat a whole rotisserie chicken. And with just a little bit of effort, you can have another delicious meal that will please the whole family.
What's your favorite rotisserie chicken dinner?