So I got what I can only imagine are going to be the first of many of almost identical emails and text messages today.
I got my very first email claiming that someone wanted to give me a ton of freakin cash monies.
GASP! For me?! You just want to give it to me?! Golly day, how lucky am I!
Thankfully, I've been around the block a few times. And I know that this was nothing more than… the very first of many… pathetic attempts to separate me from my hard-earned money.
One of the things that comes whenever there is any kind of scary situation in the world or fear that people have or economic trouble of any kind… are people you are fantastic individuals who are just a perfect picture of everything that we all should aspire to be in life!
And then… there are the others.
The one to look at your fear and say "MWAHAHAHA! *evil laugh, rings hands, stokes white cat*"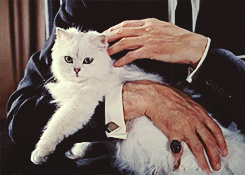 These are the ones that you have to look out for. For every good and amazing person that you hear about, in the days to come you're going to hear about a lot of other people you are in a very similar situation as you, you are getting taken advantage of by bad people in the world.
So I wanted to take a second to share with you all of the things that I know about scammers.
Back story! I actually know a lot about this, unfortunately. I was almost scammed more than once 😱
The biggest one was from – and I'm not even kidding about this… I can't make up how bad this was – a woman who wanted me to "watch her child" when I was running an in-home daycare and she claimed she was deaf and from Nigeria and new to the area and so her grammar was bad.
And she wanted me to watch her child – without ever meeting me, calling me on the phone, visiting my house or anything – for more than double my weekly rate. And she wanted to pay me upfront.
And then… I'M STILL NOT KIDDING… she asked for my bank details so that she could "deposit the first month upfront to hold her daughter's spot." AND THEN.
*Still not kidding!**
I FREAKING SENT A STRANGER FROM CRAIGSLIST my account, my address, the bank address, name, my whole legal name… everything. By the grace of God, or maybe it was pity from the scammers who saw the measly $0.17 in the account on any given day, nothing ever came from it.
But it wasn't for a few days after I gave this STRANGER my BANK INFO, that I realized that it wasn't legit. That I'd ignored the HUGE, MAJOR RED FLAGS flying all over the place, all because I had those dollar signs in my eyes of that sweet, sweet easy monies.
This is just ONE of the times that I fell for a VERY OBVIOUS scam because I never stopped to think about anything but the number hitting my account. *Ka-ching!*
That blinded me! And – I'm still shocked by this! – none of the incredibly boneheaded scams I've fallen for left me with long-term problems.
But I don't want that for you!
So let me spell out in cold hard facts the RED FLAGS for scammers in the days and weeks to come.
99.9999999 % it's a scam if….
They don't know your name
They ask for your numbers (account, social etc.)
They send an email from @gmail.com
The email looks really ghetto and unprofessional
It's a "final chance" email or text or a shut-off email or text. These things have to go through the USPS mail.
The link that they send isn't directly to the company's site.
The email starts with "CONGRATULATIONS, FRIEND!" or "Hey, There, Dear," or "Dear Reader,"…. again, no company would send this.
The " I R S" is emailing you demanding you send them something (anything official will only come in the mail)
The email comes from an account that's slightly different than an official company ( "Comcast" would be "ComScast" –– a slight change, almost unnoticeable, but SO important)
Someone is promising to send you oodles of dolla dolla bills for no reason. This ain't Hollywood. Ain't NO Daddy Warbucks or Richard Gere knocking on people's doors looking to give some random person a blank check to a better life.
There are about a kajillion other instances where things could be scams, but please use good judgment as we're getting into the days where everyone sounds like they're going to be getting some kind of government help. But remember…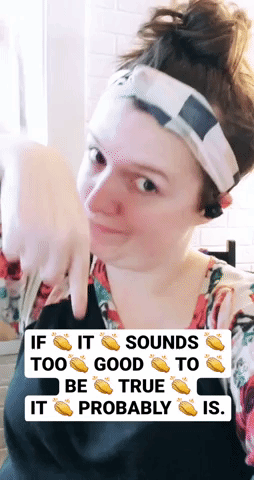 Stay safe this weekend! And remember that we're all in this together!
PS – Did I mention that dropping the truth bomb diggities like this is my jam? That I'm a pro at making a pound of hamburger meat stretch as long as possible? That being ultra frugal (nah, forget it… I'm cheap, and I'm not ashamed of it.) isn't a skill I was born with and that I can teach you to ways of the Frugal Force inside of my ultra-exclusive, mega-special Fierce Budgeters Community?
YASSS! *happy dance!!!* I know you're looking around for some help, let me give it to you every single week! (This week's lesson was a script on what to say to get your monthly bills lowered.. it's pretty genius honestly, and it works, too!) Next week, we'll be doing some more deep dives into things to help you get through this crazy SH!+ storm (gasp pardon the French, but adult interaction has been few and far between and momma is pent up!! Plus… how else can you accurately describe life right now…?). Let's get through this together – no fear mongering, no selling kidneys to pay rent, just REAL help that you can actually do every week that makes a big difference every. single. day. of your life.
PPS – Got any questions? I want to help you make the right decision for YOU! SO just go ahead and hit reply and I'll help you decide if the Fierce Budgeters Community is for you. I promise, I have no problem telling you it's not a good fit.
But – this is a true stat! – every. single. person who joined the Community was able to save $100 in their very first month… even after saying that they lived paycheck-to-paycheck. Not too shabby for spending $13 right!?
Get the FREE Money Saving Calendar!
Money troubles got you down? Don't know where to start to fix it?! Constantly overwhelmed by money!??!?
Get daily tips to fix your finances in less than 10 minutes each day!