The best free money trackers on Pinterest. Grab one or grab them all!! There are money trackers for savings goals, sinking funds, and debt payoff! 
A Savings Tracker is a great way to keep track of your progress and visually see where you are with your savings goals. Having a physical representation helps to hold you more accountable and can be a source of motivation. There are many different Savings Trackers that you can find online or in stores, but if you want one that is specifically tailored to your needs, you can easily create your own.
The best way to make a Savings Tracker that works for you is to start with a blank piece of paper or spreadsheet and list out all the categories that are important to you. Some common categories include: Monthly Bills, Groceries, Entertainment, Dining Out, etc. Once you have all of your categories listed, break down each category into specific sub-categories. This will help you get an idea of how much money you need to save in each area each month.
Everything you need for free to get your finances in order!
Free Money Tracker Printables
Free Savings & Debt Payoff Trackers
Money Saving Tracker — DebtFreeCharts
Debt Repayment Plan – Simply Stacie
Savings Tracker- PJs and Paint 
Monthly Budget Tracker – The Housewife Modern
52 Week Money Saving Challenge Printable- A Cultivated Nest
30-Day No Spend Challenge- Savor & Savvy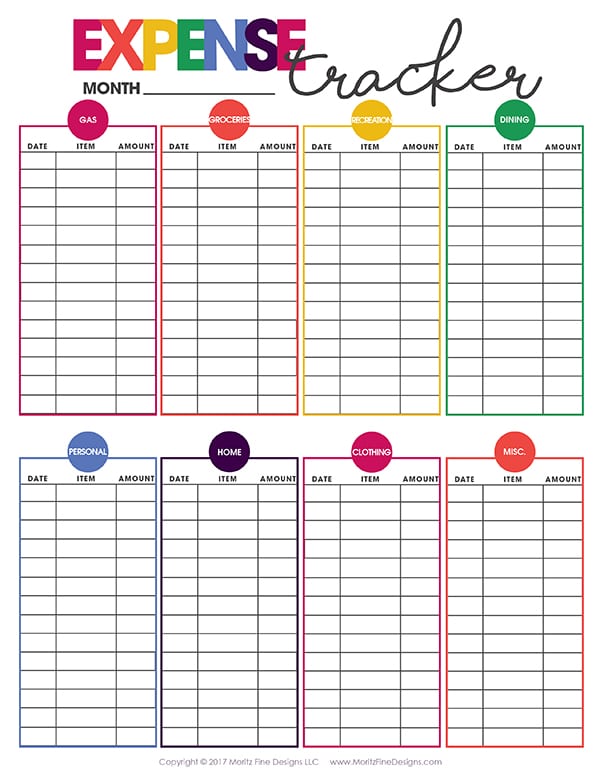 Free Expense Tracker — Mortiz Fine Designs
Savings Tracker- A Crazy Family
Free Printable Savings Tracker — Simply Unscripted
Savings Goal Tracker- Small Stuff Counts
Savings Tracker- Life's a Carousel
House Saving Tracker — Let's Craft Instead
Christmas Savings Trackers- Frugal Foot Doc
Emergency Fund Tracker- Savor and Savvy
$10,000 Money Saving Challenge Tracker- Decluttering Your Life
Meal Planner With Shopping List – Pixie Dust Savings
9 Bullet Tracker Printables- Mom Envy
Savings Goal Tracker – Small Stuff Counts
52-Week $1,000 Savings Tracker- Hassle Free Savings
Emergency Fund Savings Tracker
Financial Goals Worksheet  – Living Low Key
Debt Payoff Trackers- The Little Frugal House
Money Goals Tracker – Inspired Budget
Free Coloring Pages for Tracking Money – Frugal Mom Guide
Debt Free Thermometer- The Mostly Simple Life
Debt Free Charts- Debt Free Charts.Com
$5,000 52-Week Money Saving Challenge 
In an effort to save money, many people turn to challenges like the 5000 challenge. The premise is simple: save $5000 in a year. This can be done by making small changes in your spending habits, or by taking on extra work to bring in more income.
One way to make saving money easier is by using a free printable savings tracker. This tool can help you keep track of your progress and see where you are making the most progress (and where you need to work a little harder).
The 5000 challenge is a great way to get your finances in order, but it's not the only challenge out there. If you're looking for something more challenging, or if you have already completed the 5000 challenge, why not try the 10,000 challenge?
Sinking Funds Tracker – Inspired Budget
Bill Payment Tracker- The Coupon Project 
Bill Pay Checklist – Natasha LH
Debt Free Tracker — DebtFreeCharts