Thanksgiving can be a tough holiday to prepare for. You don't only need to buy a bunch of groceries to prepare a delicious feast; you need to have beautiful Thanksgiving table setting decor at the same time. Although this sounds expensive, it doesn't have to be! With dollar stores as your best friend, you can express your creativeness with inexpensive Thanksgiving table settings that are guaranteed to impress.
Thanksgiving can be a tough holiday to prepare for. You don't only need to buy a bunch of groceries to prepare a delicious feast; you need to have beautiful Thanksgiving table setting decor at the same time. Although this sounds expensive, it doesn't have to be! With dollar stores as your best friend, you can express your creativeness with inexpensive Thanksgiving table settings that are guaranteed to impress.
With various Thanksgiving table decorations available at dollar stores, budget-friendly Thanksgiving table setting ideas are endless! You'll find everything you need at an affordable price, with no guilt attached! Happy Thanksgiving, everyone!
Classic & Traditional Thanksgiving Table Setting Decor Ideas From Dollar Store
Colorful Thanksgiving Tablescape
Fall is the perfect time to create a pumpkin, gourd, and floral centerpiece. Simply cut a hole in the center and stuff them with your favorite autumn leaves and flowers. Add layers and tiers with cake stands, stacked-up books, and tall candle stands for extra flair in different spots on the table for added creativity.
Fall Leaves Table Setting
Warm-toned autumn leaves are always a classic go-to when it comes to Thanksgiving table setting decor. Grab a few feet of the vine in dollar stores or from your backyard and effortlessly wrap them around candle holders for an elegant fall look. This simple yet festive design will impress even your most discerning guest at the table!
The Grateful Harvest Thanksgiving Table
What better way to decorate your delicious Thanksgiving feast than with more festive food? You'll be sure to work up everyone's appetite by showcasing the harvest from a local farm or your garden. Pair the fresh produce with log plates and candles, and you'll have traditional Thanksgiving table settings that will delight all who arrive.
Stacked Pumpkins and Turkeys
Thanksgiving table settings are not complete without the traditional and iconic turkeys and pumpkins stacked up high on top of each other. Add dainty orange and white flowers around your centerpiece to round off the overall look. Year after year, this classic yet straightforward Thanksgiving table setup will always be a simple beauty.
Autumn and Flower Themed Table Setting
Thanksgiving table setting ideas don't have to be just about autumn leaves, turkeys, and pumpkins. Let your creativity run wild, and add in your favorite seasonal flowers, like daisies or sunflowers, for example! They're nature's works of art that will make your space feel warm with just the right amount of color without being overbearing.
DIY Dollar Tree Metal Chargers (you can spray paint them to whatever color you want since no food will touch them 🙂 )

Source: The Latina Next Door
Painted Pumpkins Thanksgiving Tablescape
Create your own Thanksgiving table in a matter of minutes by using dollar store paints for an adorable decoration. Grab white color, and paint up a few pumpkins. Embellish the rest of your table with warm-colored Thanksgiving table setting decor and a white table runner to make your decorations stand out!
Farmhouse Autumn Leaves Table Runner
Cozy, casual, and laid back. Opt for a low draped garland as the table runner, so everyone can enjoy talking to each other while they're enjoying the Thanksgiving meal. You could use dried leaves from your backyard or grab some bundles at the dollar store. Spice up this decoration with fruits, flowers, and more!
Plaid and Pumpkin Themed Table Setting
Thanksgiving is the best time to get creative with your own garden's produce. Create an organic and natural runner that's perfect for autumn with leaves and some mini pumpkins. Scatter nuts, votives, and tealight candles on the base of each stem to add an extra cozy feeling to your tablescape. You can use a simple tablecloth (and simple linens for napkins) to help the gourds, pumpkins, and greenery stand out.
Flowers & Pumpkins Thanksgiving Table Setting
Using real pumpkins for a centerpiece embellishes the existing natural beauty of these works of art from the patch. By combining various shades of orange, cream, green—you can create an elegant centerpiece for any event that is sure not to go unnoticed! Add a touch more creativity by adding a big bow on the giant pumpkin to make it stand out even further than before
Turquoise + Orange Fall Tablescape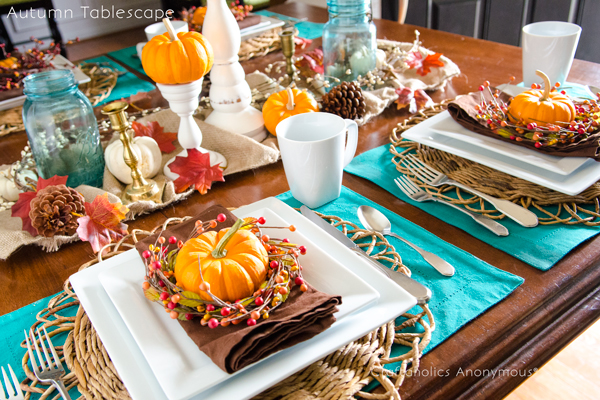 Looking to decorate your table traditionally but can't think of Thanksgiving table setting ideas to make yours pop? How about adding a pop of color! Although shades of blue aren't a traditional fall color, your guests won't be able to keep their eyes off your striking table setup for their place settings! For more fall-inspired Thanksgiving decorations, check out 65 DIY Fall Decorating Inspiration.
Green Pumpkins Thanksgiving Table
It's time to spice up your traditional Thanksgiving table decorations with some new color! Muted shades of green and white will set the classic feel, but you can still have an exciting vibe. Use mismatched dinner plates for a subtle accent that'll make everyone smile this year around the dinner table – no matter what their favorite food is! These white pumpkins offset the gold chargers so nicely!
Cheap Dollar Tree DIY Thanksgiving Table Decor
Girly & Cute Thanksgiving Table Setting Decor Ideas From Dollar Store
Hosting a Thanksgiving meal with your girlfriends? Looking to go down the cute route this year with your Thanksgiving table settings? Girly Thanksgiving decorations are easy to come by, but this can be daunting for those of us on a budget. Luckily there are great inexpensive items at your local dollar store that will transform your table into the perfect girly thanksgiving table setting.
Cheery Rose Gold Fall Tablescape
This bright and cheery fall tablescape uses shades of rose gold to add joy. This brings back memories of flushed cheeks and a healthy glow one exudes after coming in from a walk on crisp autumn days. While neutrals really portray the autumn season, this is the perfect Thanksgiving table setting decor if you're looking for something more playful than brown and orange.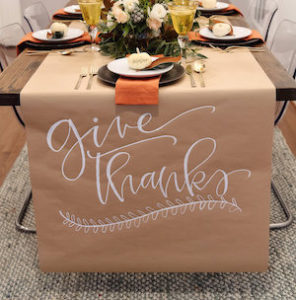 Give Thanks Table Runner — House of Harper
Source: Fox Hollow Cottage
"I'm All About That Baste" Thanksgiving Table Setting
Modern, festive, AND girly? A Thanksgiving table studded with soft pastel colors, a funny wall quote, witty cups, and turkey leg balloons screams FUN! Thanksgiving is all about the colors, making it a perfect time to add an extra flair to your table decor. Paint various pumpkins in your favorite pastel colors and dress up the rest of your table with pastel balls and napkins.
Elegant Thanksgiving Table with Pink Pumpkins
Pink, pink, and PINK! This is definitely one for my fellow pink lovers out there. This cute and elegant Thanksgiving table setting is not only pretty but inexpensive since you can find almost everything in your local dollar stores! Keep the vibe cute, classy, and perky with pink and peach accents and a little sparkle.
Soft Pastel Fall Table Setting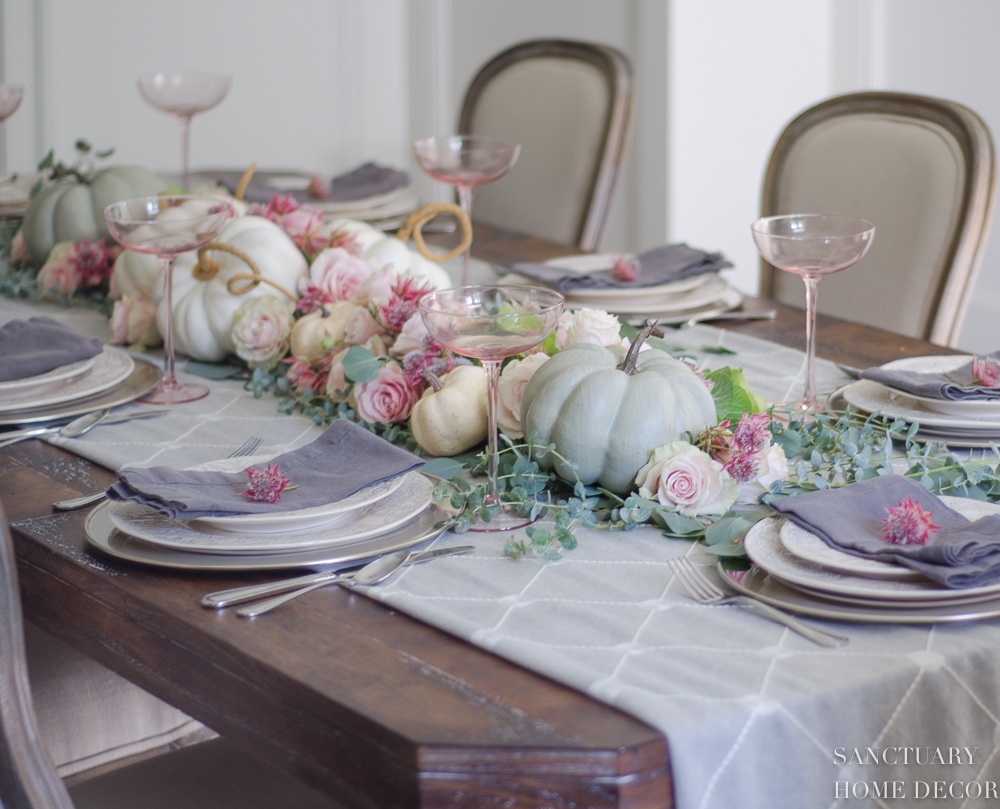 Although Thanksgiving table settings have certain expectations, no law says you can't change your decorations with the colors. This year, try out light gray with soft pastel roses and other flowers and a natural eucalyptus runner for an autumnal feel!
Metallic Pastels & White with Paper Decorations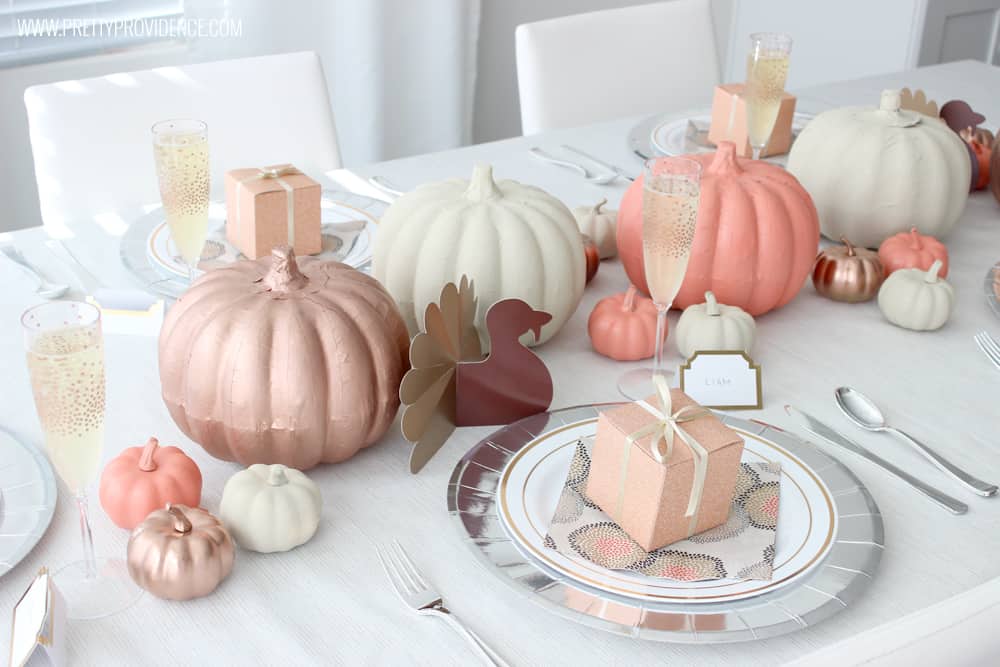 Love shiny and sparkly decorations? Take faux pumpkins or real ones and paint them with your favorite metallic pastel colors. Fold and cut up turkey decorations and create personalized individual gift boxes for all of your guests to make them feel extra special. Fill up each guest box with sweet goodies or a small token to thank them for coming to your Thanksgiving celebration.
Elegant & Fancy Thanksgiving Table Setting Decor Ideas From Dollar Store
Looking to create a glamorous and sophisticated Thanksgiving tablescape on a budget? Your Thanksgiving table setting decor doesn't need to cost a ton of money for it to look expensive! Easily find numerous silverware, candle stands, and other fancy Thanksgiving table decorations at a dollar store. Check out these Thanksgiving table setting ideas that will wow your guests and make them think you spent hours and hundreds on them.
Early Fall Thanksgiving Table Setting
Suppose you want vintage and classy Thanksgiving table setting decor. In that case, you can try various sizes and heights of candles on different kinds of elegant brass candle holders. A boldly patterned runner will balance a sophisticated all-white table. At the same time, colorful flowers bring joy into every setting decor of this special day.
Fancy Glam Autumn-Themed Table Setup
What says fancy and elegant more than gold? With all the gold Thanksgiving table decorations, you and your guests will be dining like royalty this Thanksgiving! Don't have gold decorations? No worries! Grab some gold paint at your local dollar store and paint your ornaments all gold. Enjoy your Thanksgiving meal, your majesty!
Thanksgiving Tablescape with Blue Pumpkins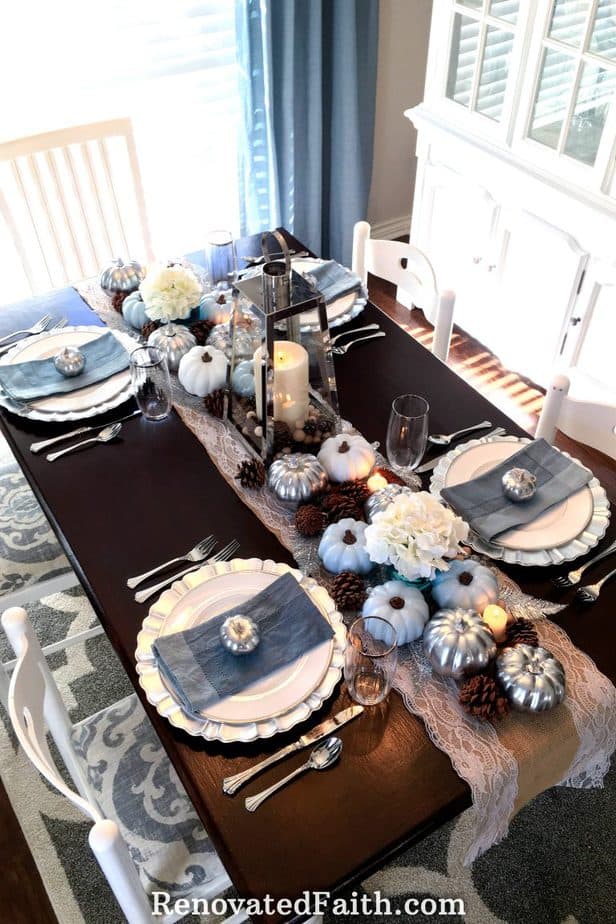 Who said you couldn't be bold and break out of the traditional color scheme this year? Blues may not seem like a natural fit for Thanksgiving table setting ideas. Still, they're actually very classy and have become a popular choice for decorating houses. Blue decorations are sophisticated yet still calm and comfy enough to set the upcoming winter season.
Velvet Pumpkins Thanksgiving Table Decorations
Add some textured flair to your table this year. Soft, plush, velvet pumpkins are the perfect decoration to top off your fancy Thanksgiving table setting ideas. You can easily make these beautiful and unique decorations with a few meters of velvet fabric and some stuffing. All it takes is sewing skills – no special tools required at all.
Thanksgiving Tablescape in Amber and Gold
Throwing in amber and gold dishware and utensils in your tablescape is a great way to make your Thanksgiving table settings look fancy and expensive. With the addition of vintage-looking iridescent glasses and shimmering candle stands, you and your loved ones will definitely feel like royalty dining with this fancy holiday setup.
Elegant Thanksgiving Table In White & Gold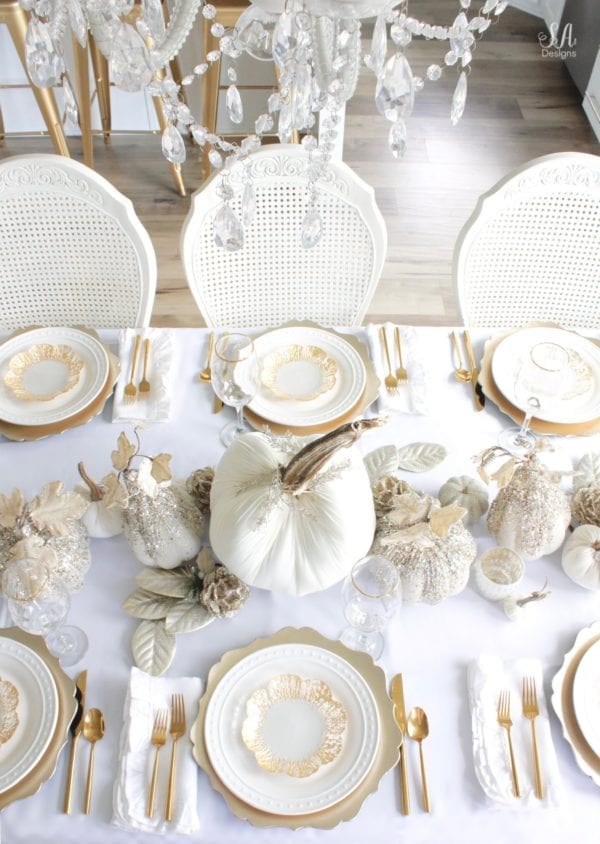 An all-white Thanksgiving table setting decoration with hints of gold just screams opulence! Paint all of your decorations white and embellish them with gold glitter and shimmering beads to make them even more gorgeous. Opt for gold silverware and dish plates to make your sparkled decorations shine even more, and you'll have a Thanksgiving table fit for a fairytale!
Floral Black & Gold Thanksgiving Table Setting
Black and gold is a bold, luxurious color pairing that can never go wrong! This Thanksgiving table setting decor will ensure that your guests are awe-struck by all of the elegant details. Soften up black and gold with an array of fresh flowers in rich fall colors, deep greenery as a natural runner for this eye-catching design!
Modern & Unique Thanksgiving Table Setting Decor Ideas From Dollar Store
Although Thanksgiving has been around for years, it doesn't mean that you need to follow tradition for decorating. As design, fashion, and ideas broaden year after year, so should our ways of decorating during the holidays. These unique and fresh DIY dollar store Thanksgiving decor ideas are for my sisters to try something special and out of this world.
Boho Table Setting
Let young, fresh, and unconventional details take center stage this year! This may not be one of your typical Thanksgiving table settings. Still, this boho-chic styling will surely grab all of your guests' attention. The play on colors, textures, and unique decor will excite everyone and give them a delightful Thanksgiving experience that is one for the books.
Minimalist Cacti Thanksgiving Table
Instead of using seasonal centerpieces or Thanksgiving table decorations, try this minimalist vibe by setting succulents and mini cacti in different shapes as your main decorations. For an even more exciting look that still fits this theme, use metallic dishware and patterned runners with bold colors to make your teme even more modern!
Dark Nordic Vibe Thanksgiving Table Setting
Can dark colors be festive? Absolutely! Play up your Thanksgiving table decorations this year with dark colors, such as black, navy, or even dark purple, to give your table a crisp and chic vibe. Soften up the dark shades with natural wood textures, leaves, and fruit to enhance the autumn ambiance.
Candles, Candles, Candles!
This year, skip the use of natural settings and opt for a different style. Use only candles as your table decor instead! Dollar stores have a wide variety of colors, scents, and sizes of candles to choose from. You can mix and match to create your candle-filled table for your Thanksgiving feast.
Cotton and Feathers Table Setting
Try a unique centerpiece that's full of plants and other natural elements that you never even thought would fit a Thanksgiving tablescape. Make small bouquets by hot-gluing non-traditional plants like cotton, pheasant feathers, nuts, and more. Use tall glass domes to encase your centerpiece and make sure all eyes see your masterpiece!
Moss Fall Table Setting
In place of using the usual flowers, pumpkins, and candles this year, go with something really out of the box! A green moss arrangement is and provides wonderful organic textures without adding too much height to our tables. This makes it perfect if you're looking to save space or don't want anything, in particular, distracting from the food and conversations.
Wildflowers & Leaves Holiday Table
You don't need pumpkins and turkeys to make your Thanksgiving table settings feel like they're straight out of a magazine. With bright wildflowers, tropical leaves, and non-traditional colored dishware, you can create an inviting atmosphere that will have everyone excited about what's coming next!
Typography Nordic Table Setting
A selection of small air plants in vases, antlers, and brass silverware give this chic table set up a unique, clean nordic vibe. Bold typography isn't the only modern element on display—you can also add fresh greenery and terrariums to give your table a more edgy look.
Coastal Thanksgiving Setting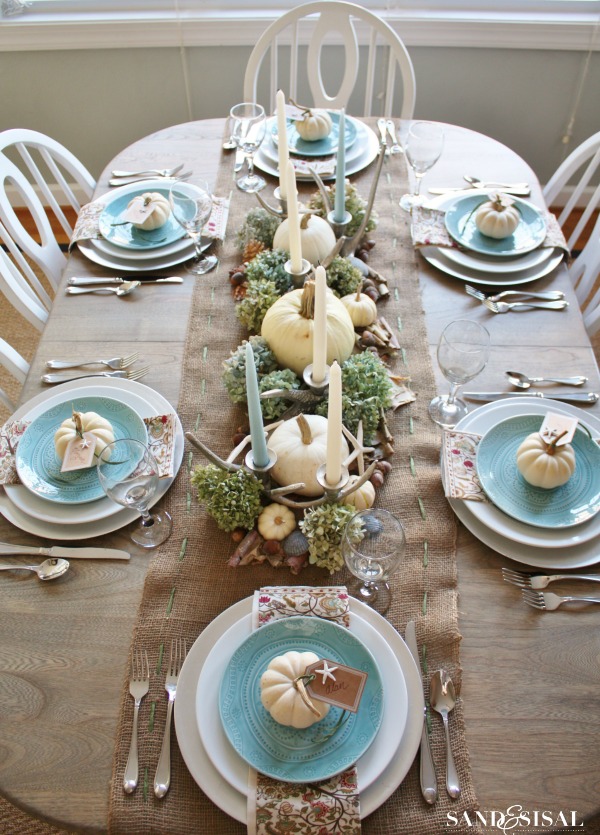 Why not combine beach elements in your Thanksgiving table setting decor? This table color scheme of ocean blue, white and brown is unique and cool to the eye. The lighthearted mood and the addition of shells and starfish will make you feel like you're celebrating Thanksgiving right on the shore!
Light & Simple Thanksgiving Table Setting Decor Ideas From Dollar Store
More doesn't always mean better! Keep your Thanksgiving table decorations simple with just a few things on your table to make more room for food, conversation, and bonding with loved ones. Here are some minimal and inexpensive Thanksgiving table setting ideas that still capture the Thanksgiving spirit.
Bowl of Herbs Thanksgiving Table Setting
You can use something from your garden and a few craft materials from the dollar store to create a striking Thanksgiving table setting. Gather a bunch of herbs and place them in a vase or bowl for your centerpiece. Create hand-written individual name tags to hand on fruit and tie a sprig of herbs on the napkins for a subtle natural touch.
Apple Candles Thanksgiving Centerpiece
Fruits have always been an integral part of celebrating Thanksgiving, so why not use them as the main focus of your table decoration? To make things easier, you can even order your fresh fruits online at Eat at Home and then pick them up later in the day! This is a very inexpensive way to make beautifully unique Thanksgiving table decorations. Simply carve out the top of the fruit and stick in tealight candles, and you're done! Plus side, it smells delicious!
Candles & Wreaths Table Setting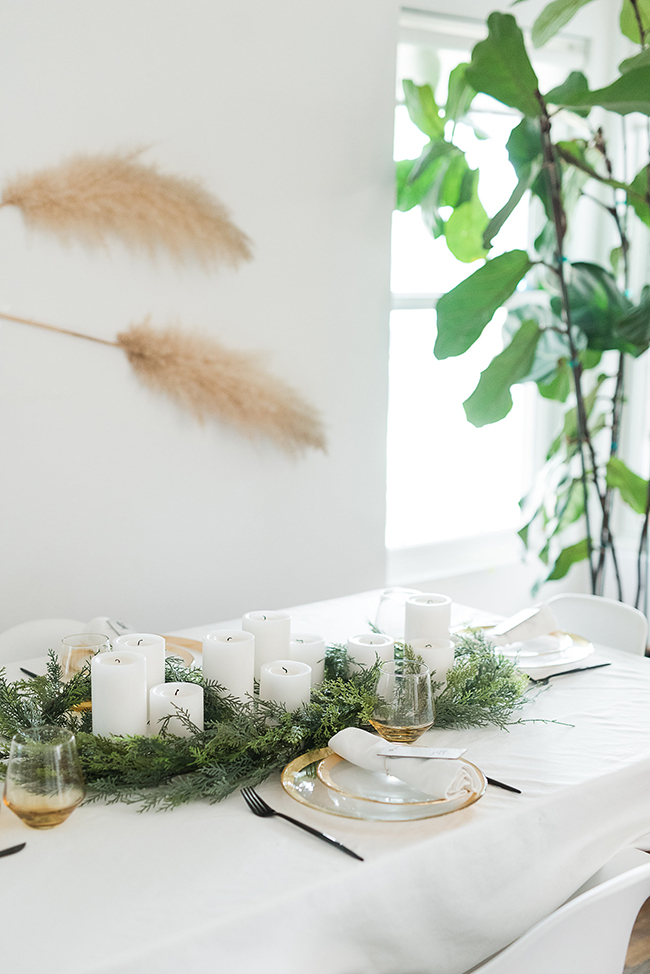 Who says wreaths are only for Christmas? Create simply charming Thanksgiving table settings with a few elegant and creative decorations. The best thing about this setup is you can repurpose your favorite decoration all year round! That's definitely going to save some money in decorating costs that won't go wasted after just one season.
Boho Table Setting Thanksgiving Decor
Fruits and Vegetables Thanksgiving Table Decorations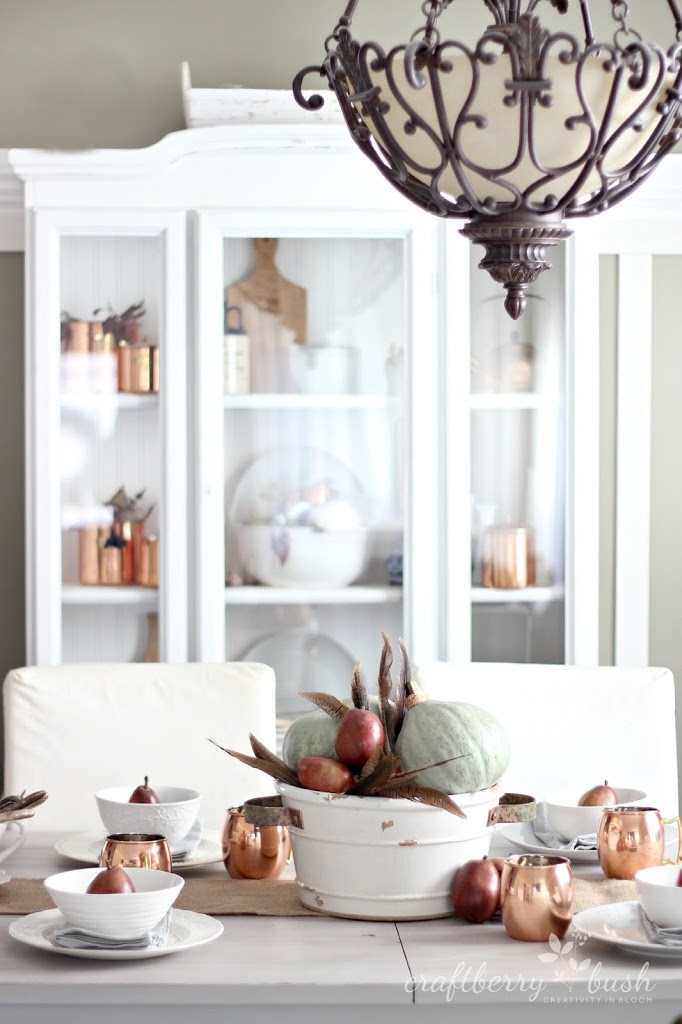 What if you have fruits and vegetables that are just getting a little too ripe? Well, don't throw them out! Instead of throwing away your produce because they're going bad in your fridge – why not turn these into a farmhouse-themed Thanksgiving centerpiece instead. Paint them any color and arrange everything nicely in a tin bucket. You'll have a simple and inexpensive centerpiece in no time.
Fuschia Flowers Thanksgiving Table Setting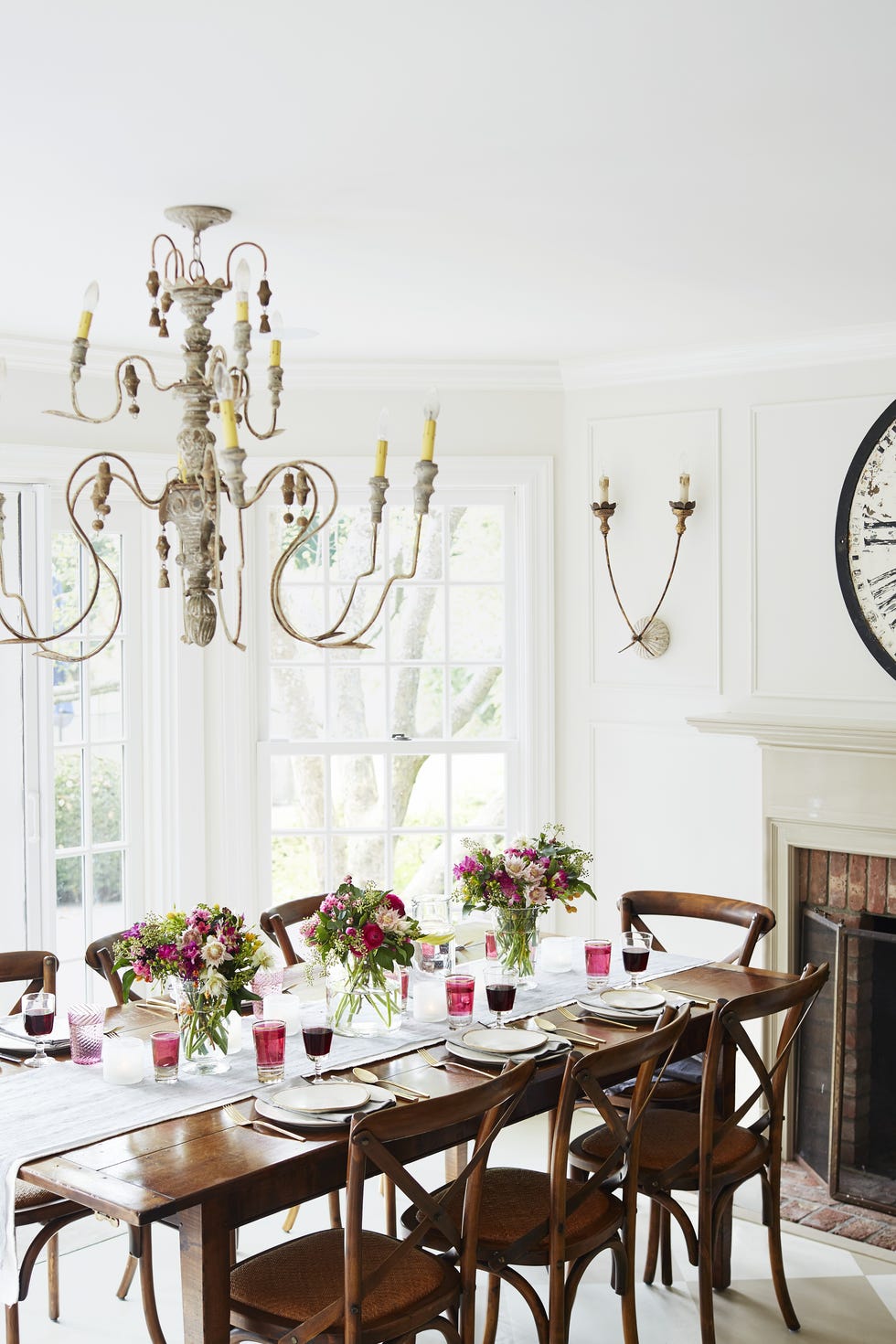 Thanksgiving table settings don't need too much when it comes to decorating. Flower arrangements are the perfect way to add a touch of beauty and creativity when celebrating Thanksgiving. Keep your tables classy by adding elegant flower bouquets that match your dishware, table runner, or even the food you plan to serve!
Boxed Neutral and Orange Dried Leaves Table Setting
This centerpiece is one of the most fantastic Thanksgiving table setting ideas if you're traditional rustic looking for a festive decoration without scattered bits. Containing your whole Thanksgiving table setting decor spread in one area will make things easier for you and more orderly for your guests, as well!
Turquoise and Orange Leaves Branch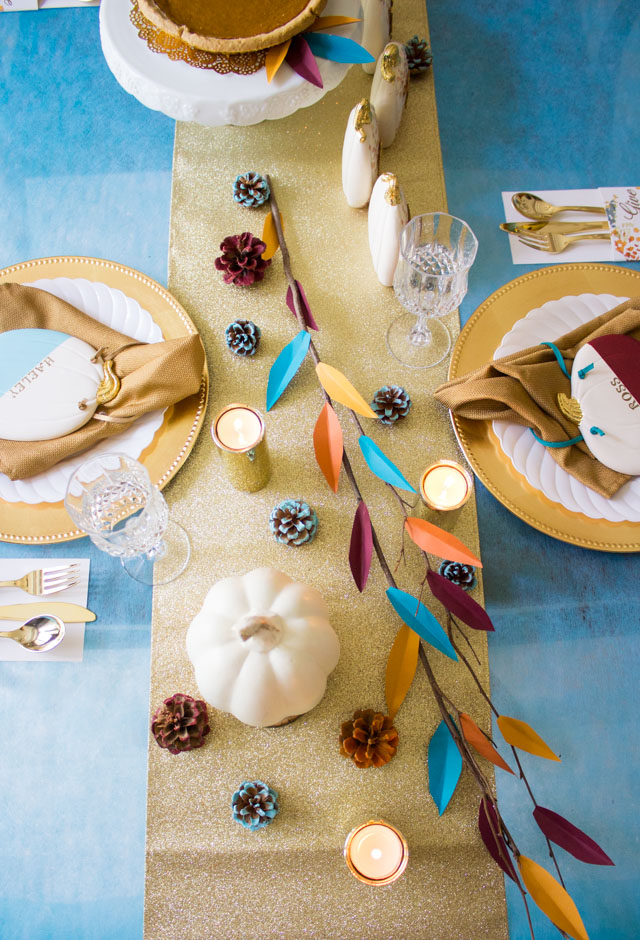 Take a single branch and ornament it with numerous pretty faux leaves. Create leaves out of colored paper or fabric or use dried-up leaves from your yard and glue them on to your liking. Paint the edges of pinecones, arrange them randomly around the branch, and you have a simple and beautiful Thanksgiving table! These personalized napkin rings would also make great guest gifts from the host.
One Pumpkin Simple Fall Table
A single giant pumpkin is a great traditional Thanksgiving centerpiece. One way to spruce it up is by placing it in your favorite bowl and surrounding it with fruits and vegetables. This natural Thanksgiving table setting decor goes excellent with neutral or wooden tables. It adds a splash of vibrant autumn colors. I love the idea of mason jars as glassware, too!
Dollar Tree Fall and Thanksgiving Table Setting

Source: Home With Holliday
Pinecone Firestarter Place Card Holders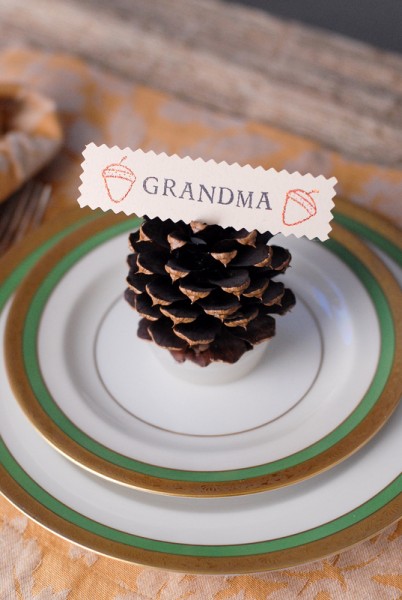 Pinecones are abundant during the Thanksgiving season and make for great personalized name cards. Simply print out or stamp guests' names onto thick paper. This is a unique favor they can take home with them, too – the perfect way to commemorate their visit with friends, family members & loved ones during the holidays season.
Berry Vine Thanksgiving Table Runner
A Thanksgiving table without a beautiful, natural-looking runner is like an autumn day without its colors. Set your Thanksgiving table apart from others with a simple all-natural table runner. The winding path of this beautiful berry vine and the pears (you could use apples instead) seamlessly wraps itself around other decorations. It is sure to keep your guests entertained as they make their way through the Thanksgiving feast.
Rustic & Charming Thanksgiving Table Setting Decor Ideas From Dollar Store
We can all agree that there's a certain charm and warmth that rustic decor brings that no other type of decoration has. Although rugged, rustic Thanksgiving table settings are a fascinating way to bring the beauty of nature indoors. The great news is that Dollar stores have everything from artificial flowers to wooden decorations to help you achieve beautiful-looking rustic Thanksgiving table settings. Check out these rustic Thanksgiving table setting ideas that are sure to give your Thanksgiving table setting that rustic charm.
Wheat Bundle Centerpiece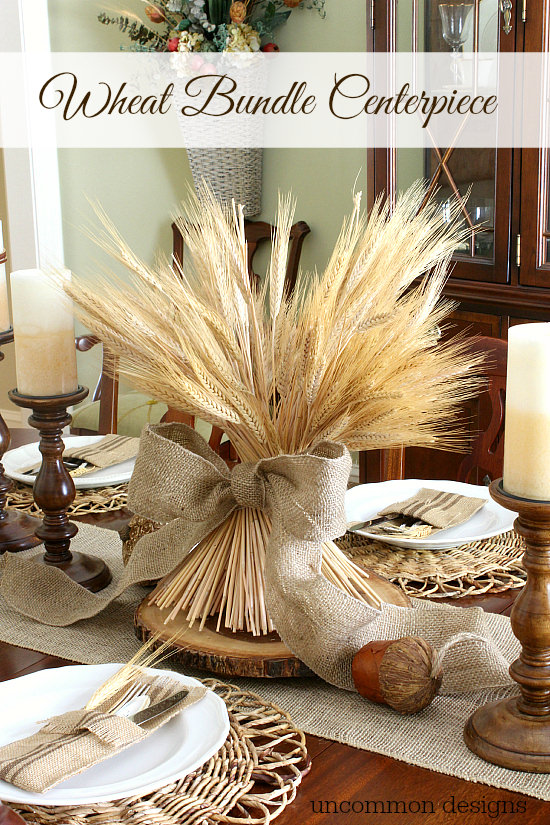 This bow-tied wheat bundle is a great effortless and cheap alternative Thanksgiving table setting decor to the usual traditional pumpkins, flowers, or turkey table decorations. The pairing of the neutral-colored burlap bow with the wheat bundle radiates just the right amount of rustic vibes while remaining simple and festive.
Eclectic Fall Books Tablescape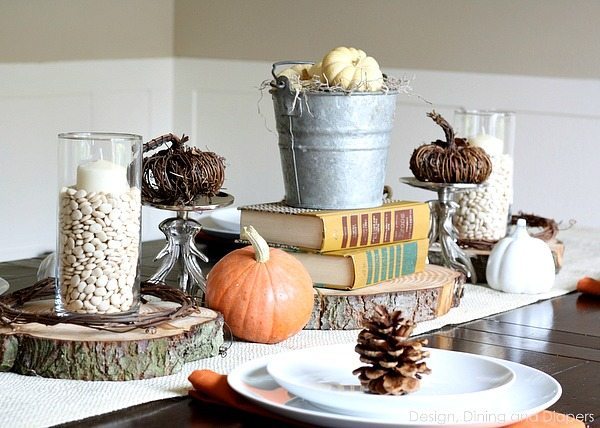 Create a stunning Thanksgiving table with items from around the house and dollar store finds. To give it that homey feel, use books as decorations by propping them up on wooden plating or wood panels for extra rustic vibes! For an even more unique twist, fill up large glasses or vases with small stones or pebbles. This way, your small candles can be held higher than usual, so they're easier to view during dinner time.
Red Bean Table Setting
There is nothing more beautiful than a rustic thanksgiving dinner table decoration that smells like home. You can make your very own candle holders by looking for tall clear glasses or vases and filling them up with red beans to raise tealight candles. When these candles are lit, they will emit an aroma guaranteed to please everyone at the feast!
Neutral Lantern Thanksgiving Centerpiece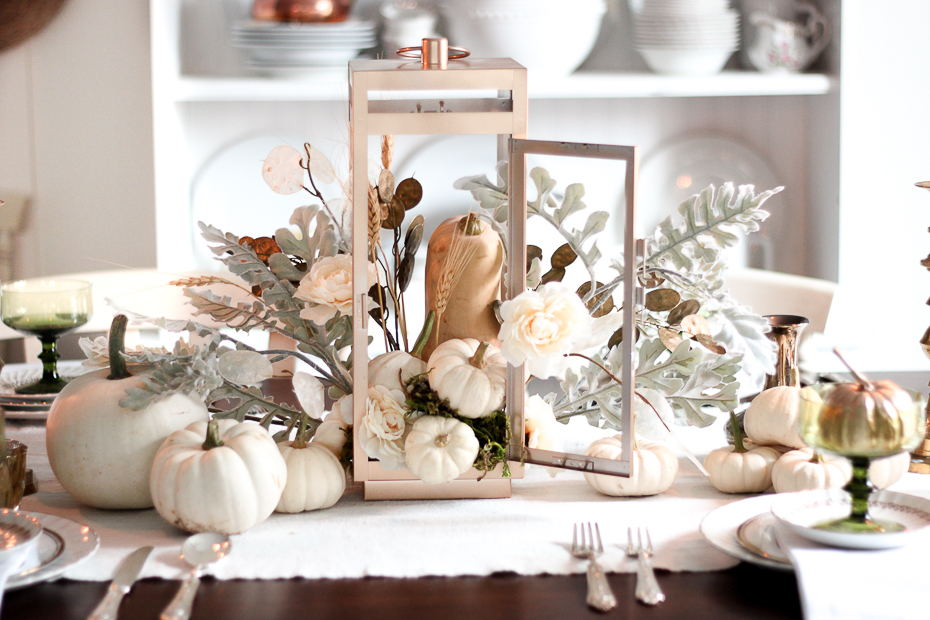 This impressive and sweet display of nature's beauty is not only rustic, but it's also cute and elegant too! Look for a used lantern frame at your local hardware or dollar store. You can fill the frame with painted pumpkins, pastel flowers, and muted-colored plants with a neutral palette.
Rustic Intertwined Vines Table Setting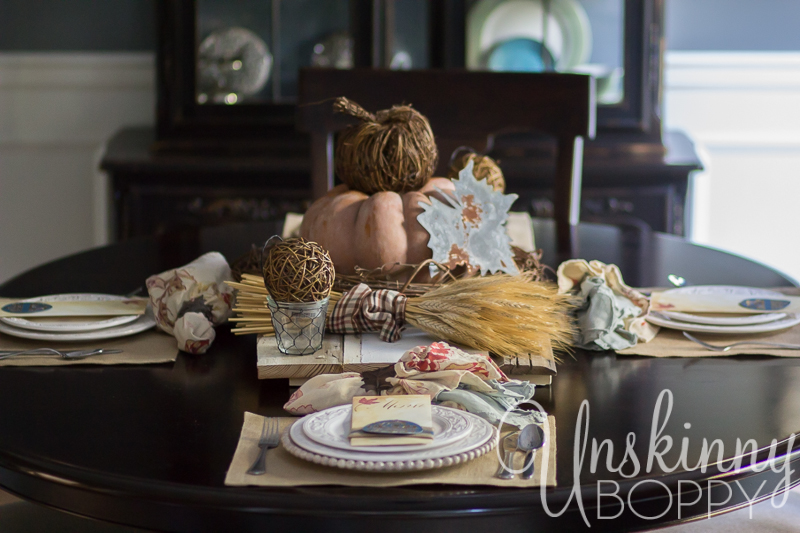 Make this Thanksgiving dinner an autumn affair with a rustic table setting that includes everything from reclaimed wood to bundles of wheat. Create your layered centerpiece by placing pumpkins in front as decoration and piling up twigs on top for more height. Continue adding leaves and dried grapevines (or real ones!) before finishing traditional rustic with plaid accents around the sides!
Mason Jar Thanksgiving Table Setting Ideas
Do you have any empty glass jars lying around? Fill them up with different fillings like corn kernels, beans, cranberries, nuts, candles, essential oils, and so much more! You can also dress up your jars by adding a straw ribbon around the mouth. These are perfect for arranging on an organic table runner made from natural materials such as flowers or leaves – either way. You'll have some creative decor that is both stylish plus eco-friendly too!
Rustic Pinecone Tablescape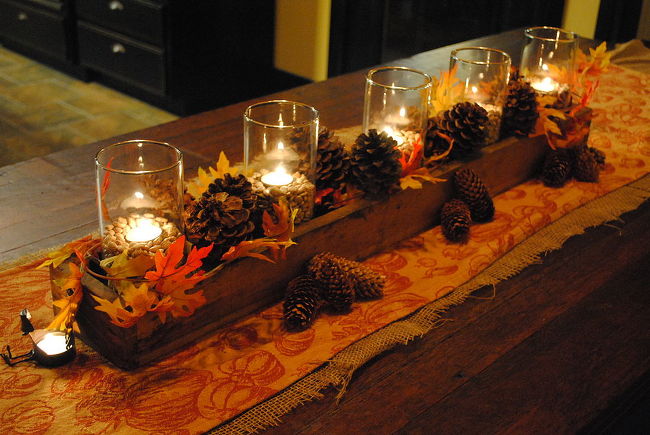 A wooden box, pinecones, autumn leaves, and candle lights. What's not to love about this warm and romantic rustic centerpiece? All you need is a few glasses, pinecones, artificial or real autumn leaves, tealight candles, and a rustic table runner. (You can also use this as a simple fall dining room table decor. Add a plaid tablecloth underneath or keep is simple.)
Thankful Rustic Thanksgiving Table With Copper Accents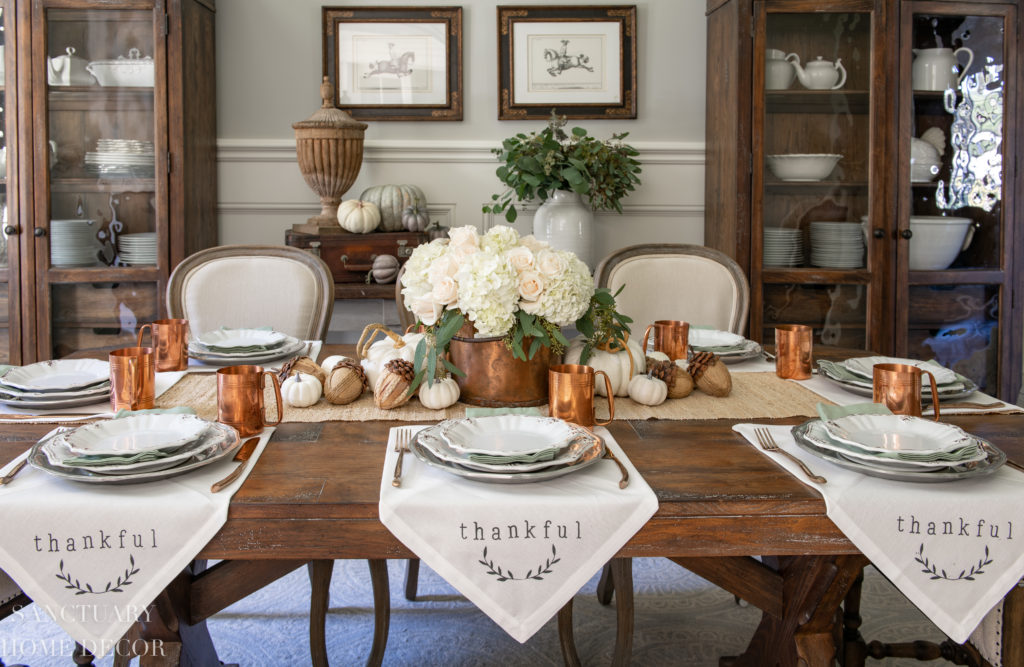 A traditional Thanksgiving table with copper and white accents sets the stage for an intimate holiday get-together. With the addition of easy-to-make stenciled placemats, the table is dressed for a fall feast. Finish off the tablescape with copper dishware, handmade acorns, muted flowers, and neutral Thanksgiving faux pumpkins, and you'll have a traditional rustic setup with pops of subtle color. I love the idea of the copper cups instead of water glasses or wine glasses.
Creative & Artsy Thanksgiving Table Setting Decor Ideas From Dollar Store
The holidays are a time for families and friends to come together and show their love and have fun. The best part of Thanksgiving is coming up with a creative, beautiful table setting that's fun, interactive, and inspires conversation! If you love creating your decorations and personalizing them for your guests, you'll definitely fall in love with these creative and artsy Thanksgiving table setting ideas.
DIY Chalkboard Table Runner
A chalkboard table runner is not only perfect for Thanksgiving but all occasions! You can easily customize it by drawing on it with chalk to match whatever season it is. It also makes a cute interactive table decoration where guests can leave messages for the hosts.
Flowers in Bucket Table Decorations
Repurpose an old tin bucket by filling it up with bright flowers as a centerpiece. This is a pretty and cute Thanksgiving table decoration for round or small tables that can't fit too many things. This setup is definitely dressy enough for guests and casual enough to keep throughout the whole fall season. Bright floral arrangements offset the typically darker dinning room table and make the formal table setting look great. You can also add some brass candlesticks to add a pop of metallic.
Autumn Leaves Table Mat Setting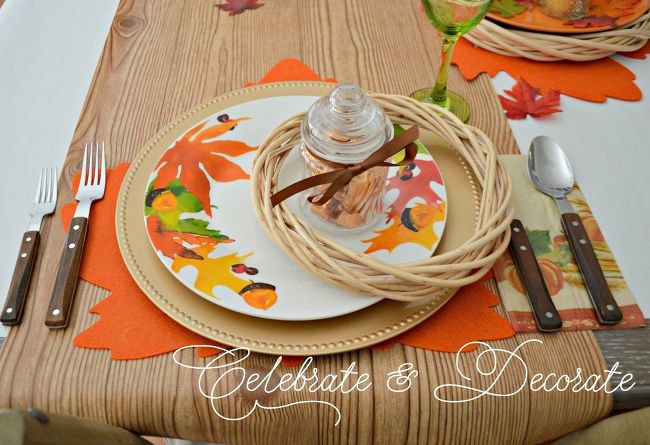 Bring out your artsy side and create some DIY decorations by cutting out autumn leaves from felt to create giant autumn leaf placemats. Add willow wreaths and more fall-themed decorations in traditional Thanksgiving colors to make your table setup even more festive. Use rustic forks, spoon, and knife to keep up with the classic rustic theme.
Woodland Inspired Thanksgiving Tablescapes
Although birdhouses aren't really linked to Thanksgiving, this unique table setting is a cute way to show off your creative chops. These woodland elements are versatile so that you can use them in different home areas even after Thanksgiving.
Natural Elements and Metallic Thanksgiving Tablescape
When it comes to the holiday seasons, a combination of silver and gold can match natural elements. Keep your Thanksgiving table neutral so that these metals take center stage at their finest. Incorporate various textures for an eclectic feel but not too fussy. Use burlap runners instead of fabric; this will give off a more cozy warmth than anything else!
Feather Centerpiece For Thanksgiving Table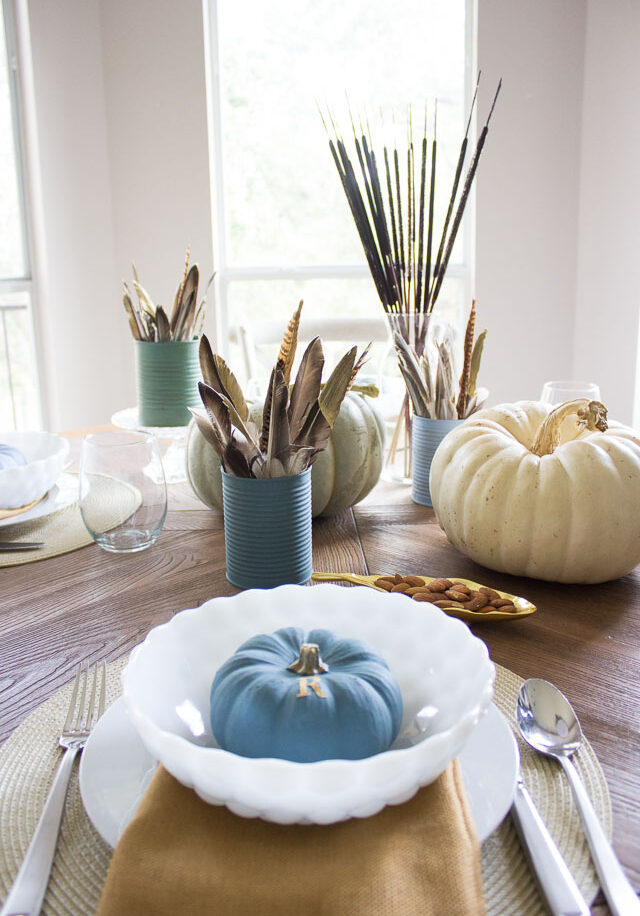 This Thanksgiving, don't settle for the same old table decor. Make it your own with this cool idea that is both simple and affordable! Use paint cans in different shades of muted blues and greens to create moody yet elegant tablescape elements. Fill them up with feathers or cattails for a sleek, dramatic look.
Modern Centerpiece and Easy Thanksgiving Table Decor

Source: Pretty Providence
Kids Thanksgiving Table Setting Decor Ideas From Dollar Store
Your younger guests deserve to have their own Thanksgiving table decorations, too! The kids will have a blast at their thanksgiving table setting even if you can't get them to eat. Why not start with an interactive activity? Incorporate bright colors or create tons of silly play dishes for them while the adults enjoy their food! Try out these cute kids Thanksgiving table setting ideas that will ensure your little guests enjoy your celebration just as much as the adults will.
Colorful Kids Thanksgiving Table
Play with prints in your Thanksgiving table setting decor and add some toys from dollar stores or colorful snacks to keep them busy and entertained while you and the other adults chat.
Kraft Paper Table Runner
This interactive kraft table runner is the perfect idea for young children! Hand them crayons and colored pencils so they can doodle while waiting on their food. The great thing about it, it's disposable–you'll never need to worry about spills or stains on your tables from food or drinks. Once your guests leave, simply fold up any leftover pieces of the kraft paper and throw them away!
DIY Dollar Store Thanksgiving Drink Cups for the Kids' Table
DIY Thanksgiving Decorations
The kids will love this fun and easy DIY Thanksgiving activity. All of the materials are available at a dollar store, making them extremely easy to get. The turkey leg place cards are made from crumpled paper bags and construction paper. In contrast, the pilgrim hat and the turkey pencil holder are made with plastic cups and colored paper. You can provide templates and other craft materials, so all they have to do is cut, decorate, and have fun!
Pumpkin and Balloon Centerpiece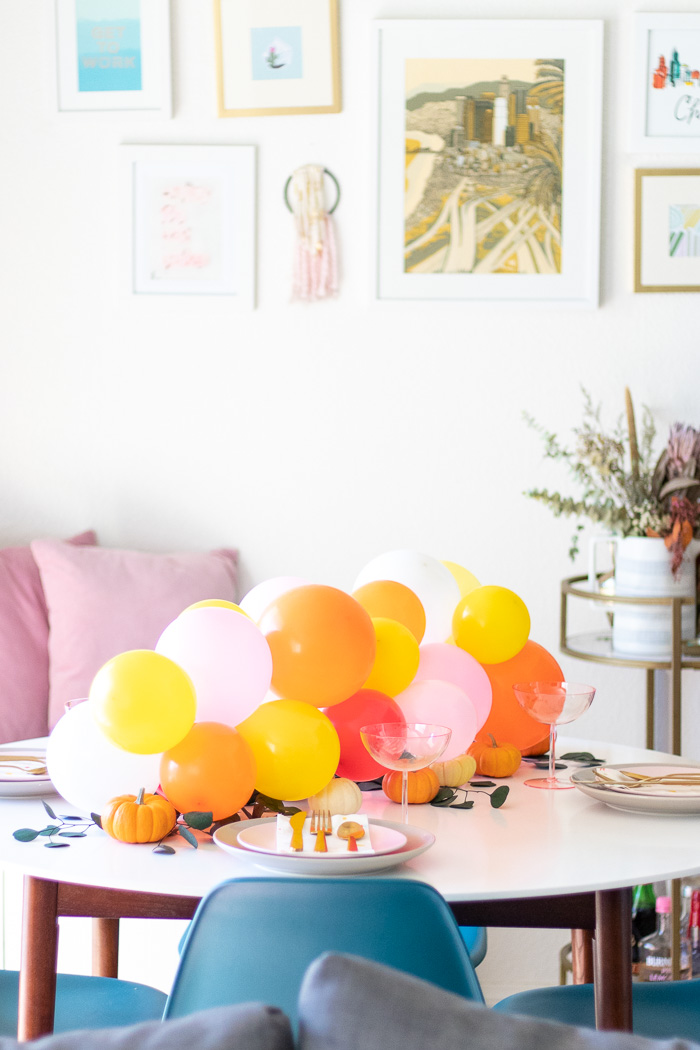 What kid doesn't love balloons? When thinking of Thanksgiving table settings for kids, it's important not to put anything that can potentially hurt them or anything you don't want them to break. This balloon and pumpkin table garland is the perfect kid's decoration for the kids' table. It's not only inexpensive and easy to put together; it's child-friendly and fun to look at!
---
Whether you opt for a traditional table set up or are looking to try something new with a modern or unique tablescape, dollar stores help you achieve various dreamy Thanksgiving table settings without you having to break your budget. With their inexpensive selection of trinkets, decorations, candles, dishware, and more, you can let your creative side come out without feeling guilty about how much you're spending to create the best dollar store Thanksgiving table settings on a budget.

Now that you've seen these beautiful Thanksgiving creations and are full of the holiday spirit, I hope these Thanksgiving table setting ideas inspired you to head out to the dollar store to see what Thanksgiving table setting decor you come up with this year. Happy Thanksgiving, ladies!