For everyone, Thanksgiving is a great way to catch up with family and friends over great stories and company. But I think I'm speaking for everyone when I say that one of the things everyone looks forward to the most every Thanksgiving is the food! Yes, all the scrumptious food! However, let's be honest, Thanksgiving dinners can get expensive. After investing in the turkey and other main dishes, your budget might start running a little low. But don't worry! This blog post was made explicitly to help you cook up delicious Thanksgiving side dishes that are easy, and of course, inexpensive to make!
These are perfect for when you're cooking with a large group of people or just want to get creative with your menu this year! So grab some parchment paper, buy these ingredients at the store, then whip up one of these tasty Thanksgiving side dishes today! You and your wallet won't regret it.
---
Side Dishes to Match your Savory Thanksgiving Dishes
For Thanksgiving, trust that there's always room for seconds. Indulge your family and friends with a festive meal of roast turkey perfectly paired with the most mouthwatering side dishes. Here are 12 fantastic ideas for Thanksgiving side dishes that complement your perfect holiday main dishes and leave you with a satisfied tummy.
Roasted Root Vegetables
Indulging in the perfect roast turkey must also mean the tastiest roasted vegetable side. This roasted vegetable is a healthy staple to have at your Thanksgiving dinner. Here's one delicious Thanksgiving dish that's perfect for those looking for a medley of vegetables to pair with your main dish!
Best-Ever Candied Yams
These candied yams are not only for your Thanksgiving dinner guests who are huge fans of anything sweet. This is a great dish to chase away the tang and saltiness of your savory dishes. These are all about the sugar syrup you'll make in a small saucepan and then pour over your sweet potatoes. What makes it so delicious: brown sugar, butter, orange juice with just enough spice from nutmeg & cinnamon stick for flavor without being too overwhelming or perfumey. You can even add an extra kick and a depth of flavor by tossing in a bit of bourbon!
Instant Pot Cherry-Orange Cranberry Sauce
Here's one that you mustn't leave out of your Thanksgiving dinner menu. When this sauce is made, the whole house will smell like Thanksgiving! It tastes great on anything from turkey to cookies and everyone's favorite fall side dishes! You'll never need another cranberry recipe again with our easy one-bowl method that requires nothing more than cranberries, oranges, water (or juice for more flavor), and sugar!
Crescent Dinner Rolls
The recipe for these heavenly homemade rolls will bring so much heart and warmth to your Thanksgiving feast. In just under an hour, you can create these dinner rolls that are the perfect way to round out a satisfying meal. The aroma of these light, golden rolls is heaven-sent. They have a homemade flavor that you can't help but swoon over and feel happier in your day just from smelling them!
Four-Flavor Sheet Pan Pie
Now you're looking at a crowd pleaser! One pie at the Thanksgiving dinner table brings so much joy, so imagine the pleasure a 4-in-1 pie brings! In this pie-nominal (get it?) Thanksgiving pie recipe, pumpkin, cherry, pecan, and apple harmoniously co-exist to give you the best gastronomic experience this season! There'll be something for everyone!
Creamed Corn Cornbread
When I think about cornbread in Thanksgiving dinners, my mind automatically drifts to dessert and bread complements. Now, this cornbread recipe ticks off all of those and more! With adding a can of cream-styled corn to the usual recipe, you can create a side dish that all of your guests will crave, even in the next Thanksgiving dinners to come!
Sweet Potato Poutine
Have you ever had sweet poutine? Well, here's the perfect recipe you need to try! Sweet potato casseroles always take the limelight in any Thanksgiving dinner. But just take the beloved sweet trio of brown sugar, toasted marshmallows, and sweet potatoes, and you'll be creating a delectable dish that complements the Thanksgiving main dish truly well.
Sweet Potato Gnocchi with Maple Cinnamon Sage Brown Butter
If your family are huge fans of sweet potatoes, then this Thanksgiving recipe is a must-try this season! A dish of these soft, pillowy sweet potato gnocchi cooked in the delectable maple sage butter sauce. The sage brown butter presents a perfect balance of salty with an earthy note thanks to the direct contrast in maple syrup and cinnamon flavors!
Toasted Pecan Torte with Butterscotch Pecan Topping
Here's a Thanksgiving dessert you wouldn't mind having as a side dish. It's a fancy dish that's a tasty crossover between a sticky toffee pudding, butterscotch sundae, and pecan pie. Sounds like a dream, right? This is one of the inexpensive and easy Thanksgiving dessert recipes you need to try this year!
Roasted Pears
Nothing beats the mouthwatering fragrance of juicy sweet roasted pears drizzled with maple syrup! The smell of warm fruit and syrup doesn't only make your house smell great, it invokes a sense of the holiday season. Not to mention that this Thanksgiving dish is super satisfying and heartwarming as well. Whatever you'll have as a Thanksgiving main dish will undoubtedly be an excellent pair for these roasted pears!
Cheesy Monkey Bread
Cheesy monkey bread is a delicious treat that will make you feel like the luckiest person in all of creation! It's so good, your friends and family would be crazy not to try it. This cheesy monkey bread will go perfect with your turkey this year and also tastes amazing on its own. It has just enough cheese to be delicious but not too much that it overpowers the rest of the flavors. You can even freeze the batch you make to save for later or make two batches at once!
Sorghum-Glazed Sweet Potatoes
Here's another must-try Thanksgiving dish if your family and guests are lovers of sweet potato! Perfect either as a side dish or a simple autumn comfort food, this sweet potato dish can charm anyone around the Thanksgiving table! For an extra crunch, you can crumble some store-bought candied or spiced pecans!
Thanksgiving Vegetables Side Dishes
There are so many options when it comes to Thanksgiving vegetable side dishes! You could go traditional and make a few of your family's favorite recipes, or you could try something new. Whatever the case, here are some great ideas for both vegetarian and meat-filled vegetable side dishes that will please every single palate at your holiday celebration.
Balsamic Roasted Brussels Sprouts
In this delicious autumn recipe, roast brussels sprouts with a balsamic and maple star. Serve it as an appetizer or enjoy them on their own for a light meal. This Thanksgiving recipe is for anyone who loves dishes that perfectly combine sweet and savory flavors. This fantastic addition to your Thanksgiving feast will surely make your Thanksgiving guests crave more of this in the dinners to come.
Roasted Cauliflower with Lemon Zest
This is a great Thanksgiving dinner idea for someone who wants to prepare a dish with much ease and little time. If you're pressed for time yet want a delicious vegetable side dish added to your Thanksgiving menu, then this is definitely worth a try! This is a dish you can easily make for your vegetarian family members. Thanks to its bright flavor combination with lemon zest, it will delight them and be one of the more flavorful sides on their plate, thanks to its bright flavor combination with lemon zest!
Yellow Squash Casserole
Here's another fantastic vegetable side dish I scoured from the Internet. Two things I love about this recipe; one, it can be made with low-fat ingredients without sacrificing the taste, and two, with its cheese and crackers ingredients, you can expect even the picky-eaters and younger guests to want to get seconds of this dish.
Brussels Sprouts in Rosemary Cream Sauce
This Thanksgiving side dish just screams everyone's-soon-to-be-favorite dish! It's even more impressive that this can be prepared in a total of 30 minutes with very easy-to-follow instructions. This fall-flavored is full of earthy flavors, it's hard to believe these little guys can pack such a punch!
Mustard-Parmesan Whole Roasted Cauliflower
When I first chanced upon this Thanksgiving vegetable recipe, I was floored with how flavorful it looks! As the dijon mustard concentrates in flavor as it roasts, resulting in a powerful punch of umami. Prep and brush your cauliflower ahead of time, then let them sit at room temperature until you're ready to cook. This would definitely look perfect beside the roast turkey at your Thanksgiving food spread this year!
Air Fryer Green Beans with Gremolata and Toasted Almonds
Air-fryer recipes have become popular the past year, and there's no better time to put your air fryer to use than this Thanksgiving! Thanks to this handy kitchen equipment, you can create this green beans side dish more crispy and blistered without using up too much oil. This side dish will surely be a mainstay in your Thanksgiving meals.
Creamed Kale with Caramelized Shallots
For anyone who loves kale as much as I do, this Thanksgiving vegetable side dish recipe is a great dish to include in the family tradition! The flavors in this dish bring out the best of what kale and shallots can offer! Creamed kale has become a popular addition to many fall dishes. This dish has an earthy flavor that's sure to please any palate with its robust nature and tanginess from the tomatoes, but not too strong for delicate stomachs!
Layers Roasted Vegetable Torte
This Layers Roasted Vegetable Torte is a healthy and delicious way to serve up vegetables for the whole family this Thanksgiving. It's cheesy comfort food that will have your kids asking for seconds! Made from layers of roasted vegetables, it's hearty enough to be considered comfort food but still has all the flavors you love about fall veggies.
Roasted Beets with Sesame and Marjoram
Just imagine how gorgeous this deep-colored dish would look on your Thanksgiving spread! Not to mention it tastes delicious and is extremely easy to make! Just slice the beets, coat them in oil and spices, then roast until tender. You can also use any combination of fresh or dried herbs that you have around the house. Plate this on a wide shallow dish without layering them on top of each other, and watch your guests' eyes widen when they this dish!
Spicy Honey Glazed Parsnips
Parsnips are a wonderful vegetable side dish for Thanksgiving dinner. They're full of fiber and taste great when roasted with some honey, butter, and sriracha sauce. Your guests will love this recipe!
Thanksgiving Side Dishes Make-Ahead
Now the best thing about Thanksgiving might be the food, but the struggle and stress of hosting a Thanksgiving dinner can be challenging to deal with. There's just a lot to be done in a short amount of time. With so much to prepare in such little time, it's understandable why people prefer to eat out or order in on the holidays!
A great tip is to search up Thanksgiving dinner ideas that you can prepare a couple of days, or even weeks, ahead. There is a wide variety of Thanksgiving side recipes you can make or prepare ahead without sacrificing quality time with loved ones once the big day finally arrives. Here are some of the best that you must try this season!
Roasted Beets with Citrus
If you're looking for a little inspiration in the kitchen, look no further! These roasted beets with citrus are not only easy to make, but they can also prepare all of your ingredients ahead of time. So when your guests arrive on Thanksgiving Day, all you'll have to do is pop them in the oven for a few minutes and serve them up hot and crispy!
Squash and Caramelized Onion Tart
Thanksgiving is all about the turkey. But if you're not into that, we have a solution for your plate- it's vegetarian and delicious! Make your Thanksgiving meal all the more special by serving this delightful squash and caramelized onion tart. The pastry crust is made with buttery puff pastry, so it's nice and flaky. At the same time, the filling is a creamy mixture of ricotta cheese, caramelized onions, garlic, fresh sage leaves, and winter squash.
Sweet Potato and Sage-Butter Casserole
This Sweet Potato and Sage-Butter Casserole is a perfect Thanksgiving side dish to make in advance because it gets better the longer it sits. The buttery sage flavors meld with the sweet potatoes, making this casserole an absolute favorite in our household. Sage is the perfect addition to sweet potato casserole. The warm, earthy smell of this herb will make your taste buds stand on end as you enjoy spoonfuls!
Glazed Leeks With Pine Nut Salsa Verde
Leeks are one of the most underrated vegetables in existence, but this recipe will change their reputation forever. Preparing them for cooking requires minimal effort, and they can be transformed into a fantastic side dish that you'll find impossible to stop eating! They're cooked until tender, doused with a chile honey vinegar sauce, and finished off with fresh herbs for an unbeatable flavor combination!
Apple Upside Down Cake
This apple upside-down cake Thanksgiving recipe is surely one that's not to be missed! It's the perfect dessert for any holiday, especially one spent with family. Made from scratch in a cast-iron skillet, the caramelized walnuts top the fluffy spice cake perfectly! The best thing about this recipe? If you have kids, you can loop them in to help you out with making this! With just six ingredients and no mixer required, creating this in the kitchen for less experienced people can be a breeze.
Margaret's Maple Sugar Pie
Not only does this pie taste great and keep really well in the fridge, but making it ahead of time means that when everyone else is rushing meal prep on Turkey Day, dessert and pie would be the last thing on your mind. It's easily one of the best Thanksgiving sides for a reason.
Make-Ahead Mashed Potato Casserole
Be ready to whip up this creamy and delicious mashed potato casserole that's a staple in every Thanksgiving occasion! The best thing about this casserole is that it tastes better when made ahead, so there's no need to fret over oven space for this beloved dish on Turkey Day. It's an easy Thanksgiving side dish that you should give a go this year!
Cheesy Mashed Potato Puffs
You can make this Thanksgiving side dish in advance even treat them as a freezer-plan meal, so all you have to do is pop them in the oven on Turkey Day! The best part about these puffs is that everyone will think they're from scratch, but it's actually an easy way to cheat when baking, all thanks to the easy-to-follow instructions!
Roasted Sweet Potatoes with Miso-Tahini Sauce
This year, test out some new and unconventional flavors with your Thanksgiving side dishes! These daring, make-ahead roasted sweet potatoes with miso-tahini sauce are great if you're planning to go a different route with your flavor profiles. The tangy miso-tahini sauce is complemented by the sweetness of the potatoes and makes an excellent combination that will have all your guests wishing they thought of this recipe.
Sour Cream Balsamic Sweet Potatoes
This is one of my favorite make-ahead Thanksgiving sides because they're easy to make and taste absolutely amazing! With hints of sweetness from the potatoes and tangy balsamic vinegar, these creamy sweet potatoes have a fantastic flavor that will please everyone at your dinner table this year.
Unique Thanksgiving Side Dishes
Thanksgiving flavors are so tasty and versatile that tons of people make the same delicious dishes every year! But are you someone who wants to play it up and try different flavors and dishes this year? Thanksgiving is the best time to be more creative in the kitchen and whip up unique Thanksgiving side dishes that are memorable! You certainly don't need to spend a fortune to create the most unique and delicious Thanksgiving dinner. You can experiment with ingredients already present in your pantry or grab in-season produce and ingredients from your local grocery stores.
However, if you're entirely stuck on Thanksgiving dinner ideas that will entice both the sight and taste of your guests, then look no further. Here are some of the unique Thanksgiving recipes that you should give a try this year!
Herby Rhodes Rolls
Try something new this year with this bread Thanksgiving side dish. These herby Rhodes rolls can serve as both an appetizer or a side dish. These delicious rolls will give your meal a lift and add some variety without taking away from tradition. They're easy to make, can be made ahead of time, and are perfect alongside any dish!
Jalapeño-Green Chile Spoonbread
Spoonbread is a super-quick alternative to cornbread dressing — and it's easy enough for weeknights. Look for hatch chiles, prevalent in the Southwest, which gives this dish its robust pepper flavor! Stir in one cup of grated cheddar into your bowlfuls before eating if you want them richer yet light on the palate too. This cornbread is the perfect Thanksgiving side next to creamy, sweet soups and meaty stews, as well!
Sweet Potato Casserole With Marshmallows
Give us mini marshmallows any day! I don't know about you, but I think sweet potato casserole deserves a real-deal spotlight shining bright on it during Thanksgiving dinner. It's got all of the classic sweet potato casserole flavors with even more flavor thanks to crispy mini-marshmallow topping!
Green Bean Casserole Bundles
Green beans are at their peak in late fall and winter, so it's the perfect time to experiment with using them in your side dishes with new flavors! These bundt-shaped bundles covered in bacon will be sure to wow your family or guests in this year's Thanksgiving dinner. They are easy to make, fun for kids to help out with, and they taste amazing!
Thyme-Pear Gravy
This thyme-pear gravy is the perfect addition to your Thanksgiving dinner this year. Thyme delivers an earthy flavor, while the pears give the gravy just the right amount of fall-flavored sweetness without needing to add any sugar. With its unique sweet and savory notes, this delicious gravy will make your guests pour more gravy on their turkey than usual.
Marmalade Candied Carrots
Marmalade candied carrots? Who would've ever thought! With the right amount of kick from the orange and ginger, this has the perfect marriage between sweet, tangy, salty, and rich. So if you're looking for something new to do with your carrots this Thanksgiving, instead of just roasting them, give these guys a try!
Brussel Sprouts With Pistachios and Lime
If you love the taste of brussels sprouts but find them too tough or undercooked, then these roasted whole ones are just right. They're crisp on the outside with a very satisfying crunch. But don't worry because it doesn't stop there! The inside is perfectly soft and mushy too! Plus, the date-molasses brings an added sweetness coupled with hints of tartness, which enhances any dish it touches.
Puerto Rican Mofongo Stuffing
Mofongo is a Puerto Rican dish traditionally made with fried green plantains as the base, and it can be stuffed with just about anything. For the family's Thanksgiving meal this year, instead of making your typical stuffing or dressing – make mofongo! It's delicious and easy to make.
Butternut Squash Tarte Tatin
Hold the apples, sub in squash for a delightfully earthy-sweet tarte tatin. Precooking the vegetables season and softens it, but don't let it dry or brown because of all that moisture retained from cooking! The caramel sauce will be saucy thanks to this trick which ensures tenderness after baking with an irresistible sweet flavor profile.
Crispy Potato Stacks
If you're looking for a side dish that's as delicious and easy to make as it is beautiful, look no further than these crispy potato stacks. They'll delight your whole family with their buttery topping and tender center! This unique Thanksgiving recipe is easy to make and will add some fun flair to your holiday table. The best part about this dish is that it's healthy too! Your children won't even notice these tasty potatoes are baked instead of fried.
Tamale Dressing
Thanksgiving is just around the corner, and what better way to celebrate than with this delicious recipe for tamale dressing. This recipe combines traditional ingredients like chili powder, cumin seed–and even some tomatoes! It's perfect on turkey or any kind of meatloaf you make at home this time around.
Five Thanksgiving Sides in One Sheet Pan
Until today I have not entertained the idea of combining five Thanksgiving sides in one sheet pan. With this Thanksgiving recipe, you'll be able to serve up mashed potatoes, green beans with bacon lardons, Brussels sprouts with bacon and brown butter sauce, sweet potato casserole topped with marshmallows, and pecans or applesauce – all in one platter!
Stuffed Butternut Squash with Wild Rice
This recipe is sure to get rave reviews at your table because who doesn't love butternut squash? And wild rice just adds that little something extra! Plus, this Thanksgiving dish is easy enough for beginners and can be made ahead of time, so you don't have to worry about last-minute cooking during the big event. So go ahead and give it a try! You can thank this blog post later!
Classic Thanksgiving Side Dishes
When it comes to Thanksgiving, nothing will ever beat the classic Thanksgiving side dishes. The warm flavors, the fresh fall fruits and vegetables, and the classic pairing of sweet and savory will always be something people look forward to every year. These Thanksgiving recipes may be traditional and used year after year, but admit it, a Thanksgiving spread just wouldn't be as festive without these dishes.
Traditional Baked Sweet Potato
The traditional baked sweet potato is a classic Thanksgiving side that everyone loves. It's also easy to make – you just need some butter and a variety of toppings that you can customize! Whether you're going for a sweet or savory flavor profile, these would go great with any main dish you have planned for this holiday season!
Melting Sweet Potatoes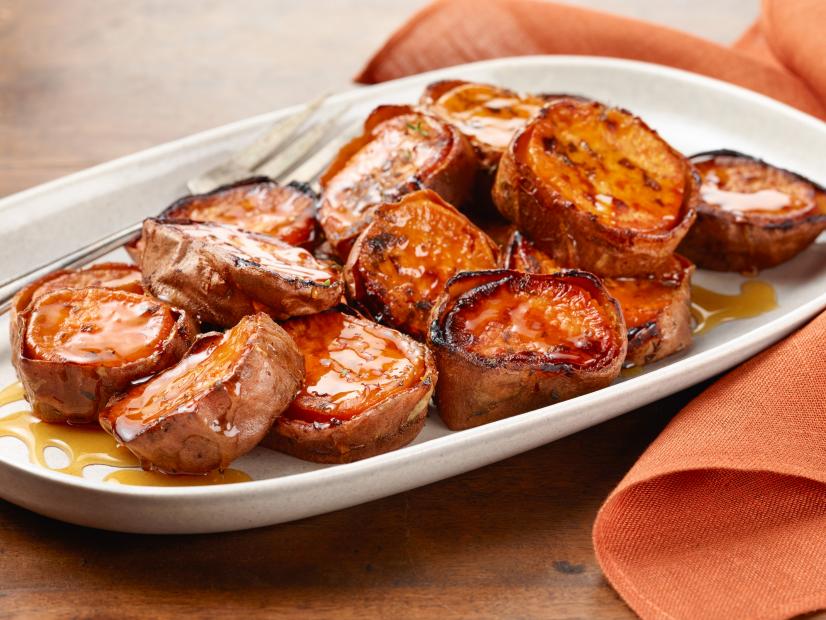 This Thanksgiving, make your yams the star of the show. These sweet potatoes are cooked in a mixture of orange juice and maple syrup to give them an extra dose of sweetness that everyone will ask for seconds. No more dull-tasting starchy side dishes at your family's Thanksgiving dinner table – these yams are sure to be a hit!
Southern Baked Mac and Cheese
Mac and cheese is a classic Thanksgiving side dish that can be dressed up in many ways. You can serve this up as an appetizer, side dish, or even a snack for everyone to eat while watching holiday movies together on TV. If you're looking for something different this year, look no further than southern baked mac and cheese! This recipe has all of the delicious flavors of traditional macaroni and cheese but with a little more flair, thanks to the addition of bacon. You'll love how easy it is to make!
Cheesy Corn Spoon Bread
Cheesy corn spoon bread is a delicious Thanksgiving side dish that doesn't take an expert to create in the kitchen! It's quick, easy, and has only three ingredients (if you don't count salt, pepper, and butter)! Serve this creamy and garlicky spoonbread hot out of the oven for a cozy cold-weather side. The best thing about it? It's perfect as is, or you can dress up any dish with its rich flavor by adding in extra toppings!
Fresh Herb Stuffing
Fresh herb stuffing is a classic Thanksgiving side that everyone loves! Why? Not only does it pair perfectly with turkey, but it's excellent with all of the other sweet and savory side dishes. This recipe is big on flavor, but it'll only take you around an hour to make. Thyme and flat-leaf parsley brighten the dish while providing a splash of earthy color that can't be beaten!
Classic Cranberry Sauce
Cranberry sauce is an absolute necessity in every Thanksgiving spread and is a big hit with young and adult guests. This sweet and tangy sauce is almost as easy to prepare than opening up a can of it. You know your Thanksgiving spread deserves the best, so why not try this delicious homemade option!
Buttermilk Biscuits
These bite-size buttermilk biscuits are light, fluffy, and delicious! The surprise ingredient? Cream cheese. They can be dipped in gravy, topped with cranberry sauce, or simply enjoyed with a light spread of butter. They're not only a delicious classic Thanksgiving side if you have extra pieces from Thanksgiving day, but you can also enjoy them the following day with a hot cup of joe!
Stuffed Mushroom Casserole
You won't have to worry too much about slaving in the kitchen before serving up these mouthwatering treats! This Thanksgiving side dish will only take you just over thirty minutes from beginning to end. Tender, garlicky mushrooms are sprinkled with a medley of cheeses and topped off with buttery seasoned bread crumbs. They're then baked until golden brown to make your next dinner delight!
Easy Creamed Corn
Corn has always been a popular vegetable during the fall season and a favorite ingredient for Thanksgiving side dishes. This easy creamed corn ought to make your Thanksgiving dinner even better! You won't be able to stop eating this perfect, creamy corn. It's so easy and foolproof that you'll never need another batch!
Scalloped Potatoes Recipe
The best part about making scalloped potatoes is that they go with pretty much any main dish choice. They're an extremely popular traditional and easy classic Thanksgiving side dish. Recipes vary, but they typically involve layering thinly sliced potatoes with onions into a homemade cream sauce before baking until the ingredients become tender and golden brown on top. It's surely potato perfection!
---
Thanksgiving is the perfect time to try out new recipes for your loved ones and show them how grateful you are for them! With these delicious, inexpensive, and easy-to-make Thanksgiving side dish recipes, we know that you've found a dish you'll be adding to your menu this year.
Whether it is potatoes, vegetables, or other sides to accompany the turkey and ham platter on your table, there are plenty of options for every taste. Remember, use your creativity and test out flavors and ingredients that work well together, and you won't have to break the bank to prepare a delicious Thanksgiving meal for your loved ones! We hope these food ideas are inspired you to get planning and cooking for the holidays!